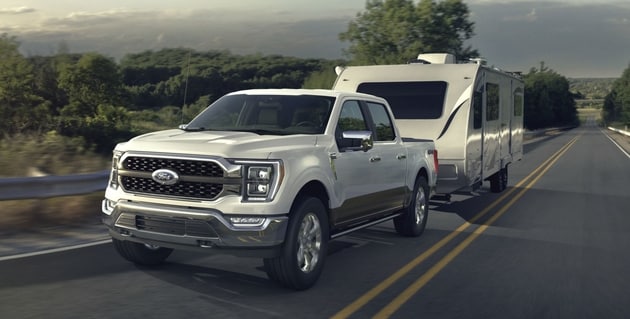 Did you know that the 2021 Ford F-150 was just named the 2021 North American Truck of the Year?
The Ford F-150 is an American classic and one of the most popular automobiles on the market today. With a long list of impressive options and luxurious features, there is no wonder why.
With a design that is 92% new for the year 2021 lineup, this Ford F-150 is the best iteration yet, and the awards back that up.
Keep reading for an in-depth 2021 Ford F-150 review and learn more about what the 14th generation of F-150 brings to the table.
A Model Preview
The 2021 iteration of the Ford F-150 is the 14th generation of F-150s, replacing the version that was introduced in the year 2015. The model's primary competition comes from the Ram 1500, Chevrolet Silverado, Toyota Tundra, and Nissan Titan.
With a whole new redesign comes new and exciting options. Most notable is the Powerboost Hybrid V-6 engine that is available with the 2021 Ford F-150. Another change is the transmission. For 2021, the Ford F-150 will come with a 10-speed automatic instead of a 6-speed automatic transmission.
Configurations and Options
Similar to the 13th generation F-150, the 14th generation model will come with a bunch of different cab and bed configurations. When it comes to the cab there are three different seating options to choose from.
The Regular Cab is the smallest of the three with only front seats provided. With the SuperCab, a back-row bench is added for more passengers and space. The largest option of the tree is the SuperCrew option, which allows seating for up to 6 people.
There are also different bed length options, though these can be affected by which cab size you choose. With Regular and SuperCab trucks, you can choose between a 6-foot or an 8-foot truck bed.
If you opt for the SuperCrew option when choosing a cabin, the amount of truck bed space you have to work with is smaller. You have the option of a 5.5-foot truck bed or a 6.5-foot truck bed.
2021 Ford F-150 Engine Options
There are a lot of options when it comes to choosing the engine you want in your Ford F-150, including the new hybrid V-6 engine. All of these engines are paired with a 10-speed automatic transmission. Rear-wheel drive is the standard choice for drivetrain with 4-wheel drive as an option too.
Here are the engine options that are available for your Ford F-150:
· 3.3-liter V6 engine - 290 horsepower and 265 lb-ft of torque
· 2.7-liter twin-turbo V6 - 325 horsepower and 400 lb-ft of torque
· 5.0-liter V8 engine - 400 horsepower and 410 lb-ft of torque
· 3.5-liter twin-turbo V6 - 400 horsepower and 500 lb-ft of torque
· 3.0-liter turbodiesel V6 - 250 horsepower and 440 lb-ft of torque
· 3.5-liter hybrid twin-turbo V6 - 430 horsepower and 570 lb-ft of torque
· 3.5-liter Raptor twin-turbo V6 - Unknown specs at this time
Towing Capacity and Payload
The towing capacity is different based on the engine package that you choose for your Ford F-150. The standard V6 engine has a towing capacity of 8200 pounds.
Meanwhile, the Ford F-150 rating for towing capacity when it comes to models equipped with the twin-turbo V6 is 14,000 pounds. If you choose the hybrid engine option you'll get a towing capacity of up to 12,700 pounds.
From a fuel economy standpoint, you can expect the 2.7-liter twin-turbo engine to get around 20 miles per gallon in the city and up to 26 miles per gallon of the highway.
The 3.5-liter twin-turbo will get around 18 miles per gallon in the city and 24 on the highway. Lastly, the new Hybrid V6 engine will get around 25 miles per gallon in the city and 26 miles per gallon on the highway.
Interior and Entertainment
The 2021 Ford F-150 comes with improved features across the board compared to the previous model. The interior has many more premium materials used for the cabin and a lot more storage areas.
Some new Ford F-150 features are a folding gearshift, 14 power outlets, and even speakers in the headrests of the seats. The gearshift folding flat creates a large flat area for you to work in.
The power outlets also allow you to power any tools or mobile devices off of your truck and its generators.
There are also a lot more shortcut buttons on the center console and infotainment system that eliminate the need to taking your attention off the road.
Another cool feature that you can order with your Ford F-150 is fold-flat front seats. If you plan to do a lot of road tripping or camping in your truck, the fold-flat seats are a great choice because they let you fold the seats to create a sleeping area.
For the infotainment system, Ford provides an 8-inch touchscreen operating on their Sync 4 technology as the standard option. There is an optional upgrade of a 12-inch touchscreen if you prefer a larger screen.
Apple CarPlay and Android Auto are both standard features with the 2021 Ford F-150's infotainment system. It also comes equipped with a standard WiFi hotspot.
Some other options that are available are Sirius XM radio, Ford's navigational services, and a Bang & Olufsen stereo system.
2021 Ford F-150 Cost and Warranties
Ford offers one warranty package for the 2021 Ford F-150. You get a 3-year, 36,000-mile bumper-to-bumper warranty, and a 5-year powertrain warranty.
The cost of a Ford F-150 varies based on which package and features you choose. The base model starts at $30,635 and the Limited trim package takes that price all the way up to $72,520. Here is a look at the price for each trim level:
· XL Trim - $30,635
· XLT Trim - $36,745
· Lariat Trim - $46,390
· King Ranch Trim - $58,025
· Platinum Trim - $60,805
· Limited Trim - $72.520
Test Drive A Ford F-150 Today
The 2021 Ford F-150 is arguably the best truck available on the market today. With a variety of different engine options and a mix of ample power and good fuel efficiency, the F-150 will meet whatever you need from your truck.
Even better, there is an option for everyone, no matter how large your family is or what your budget entails.
Click here to get in the driver's seat of a 2021 Ford F-150 today. Schedule your test drive today.