Ranger
Ford engineers set a grueling test regimen to prepare the new Ford Ranger for the demands of multi-terrain travel. Durability trials on roads so punishing that robots were called in to do the driving. Days of constant shaking in the lab to help identify and reduce squeaks and rattles and to tune suspension parts and body mounts for durability and performance. Towing heavy loads over hours up steep grades at 100 degrees Fahrenheit. And traveling under heart-pounding, bone-jarring off-road conditions. The new Ford Ranger. It's more than up to the challenge of taking on your toughest test.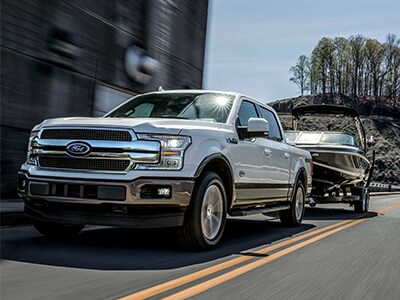 F-150
The Ford F-150 makes tough tasks look easy, whether it's working on the job or heading out on a weekend of recreation. F-150 outperforms every other truck in its class when hauling cargo in the bed or towing a trailer. No wonder the competition is always in a scramble to follow the leader.
*Max payload on F-150 XL Regular Cab, 8' box, 5.0L V8 4X2, Heavy-Duty Payload Package and 18" heavy-duty wheels (not shown). Max towing on F-150 XL SuperCrew® , 6.5' box, 3.5L EcoBoost® 4X2, and Max Trailer Tow Package (not shown). Class is Full-Size Pickups under 8,500 lbs. GVWR based on Ford segmentation.