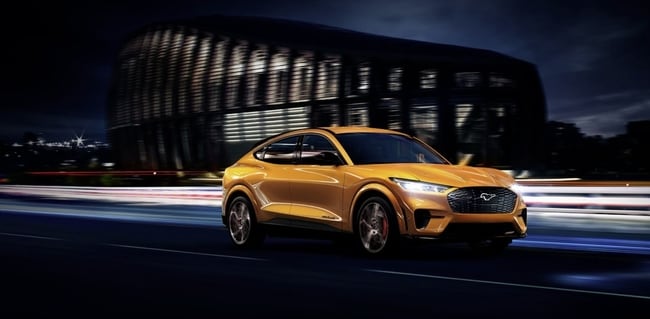 The 2021 Ford Mustang Mach-E is Ford's bold step into the future. The Mustang Mach-E is not a gas-powered sport coupe like the other 2021 Mustang, but an all-electric four-door crossover.
This change has been surprising to fans of the iconic muscle car. But Ford has been quick to assure buyers that the Mustang Mach-E brings the same commitment to power, performance, and assertive good looks as its American muscle Mustang predecessors.
Read to discover the features of the 2021 Ford Mustang Mach-E and for a breakdown of the available Mustang trims.
Mustang Mach-E Performance
The Mustang Mach-E comes with two available batteries: a standard 75.7 kWh version or an extended-range 98.8 kWh. Top models can achieve engine power of up to 480 horsepower and reach 60mph in 3.5 seconds.
All versions of the Mustang Mach-E have available all-wheel-drive.
Charging and Range
Depending on whether you choose front or all-wheel-drive and on the installed motor, the Mustang Mach-E can achieve between 210 and 305 miles on a single charge. The included Ford Mobile Charger can replenish up to 80 percent of battery life on an overnight charge.
Ford's FordPass Charging Network allows you to access over 16,000 charging stations around the country. If on a Fast Charging station, the Mustang Mach-E can add 59 miles of travel in 10 minutes and recharge 70% of the battery in 45 minutes.
The charging network can also detect your car and automatically charge the associated payment information, saving valuable time fumbling with your wallet at charging stations.
Mustang Mach-E Interior Features
The Mustang Mach-E has a spacious interior comparable to other crossover SUVs of its size. It has 29 cubic feet of space in the trunk and 60 feet of space with the rear seats folded down.
Depending on the trim level, available amenities include heated front seats, wireless phone charging, and ambient interior lighting.
Infotainment and Technology
Ford is using the Mach-E to showcase its new vehicle connectivity technology. Most information is displayed on the 15.5-inch touchscreen and streamlined instrument panel.
Ford is also promoting its Sync technology and associated phone app. This allows you to use your phone to unlock your car, check the charge level, find charging stations, and pay for them wirelessly.
Mustang Mach-E Safety
The Mustang Mach-E offers a wide variety of adaptive safety features through its Ford CoPilot 360 service. These include forward-collision warning and automatic braking as well as blind-spot alerts and pedestrian-detecting pre-collision alert. Lane centering assistance helps you stay centered on the highway, and automatic high beams turn off or on depending on the environment or whether another car is approaching.
In mid-2021, Ford will launch BlueCruise, its automatic highway hands-free system. The BlueCruise system allows for hands-free driving on 100,000 miles of highways in the US and Canada. BlueCruise is available exclusively on the Mustang Mach-E and the 2021 F-150.
A driver-focused camera sounds an alert when the driver is not facing the road to ensure safety while using the feature. Future updates to BlueCruise will add more roads and the ability to use the system while towing, making it a formidable competitor to rival Tesla's autopilot feature.
Available Mach-E Mustang Trims
The 2021 Mustang Mach-E is available in four unique trim levels. These range from the entry-level Select model to the top-of-the-line Mach-E GT.
Mach-E Select
The entry-level Mach-E Select comes standard with rear-wheel-drive with all-wheel-drive optionally available. It travels on 18-inch aluminum wheels and has a 266-horsepower battery-powered engine that reaches 0-60 in 5.2 seconds.
The Mach-E Select can travel an estimated 230 miles on a single battery charge.
Mach-E Premium
The Mach-E Premium brings upgrades to all aspects of the car: engine, interior, and exterior. The exterior features 19-inch premium wheels and stronger LED headlights. The interior features a 10-speaker Bang and Olufsen sound system and a heated steering wheel and front seats.
The all-wheel-drive upgraded electric motor has 346 horsepower and can reach 60mph in 4.8 seconds. It can travel 300 miles on a single charge.
Mach-E California Route 1
In tribute to the world-famous highway, the Mach-E California Route 1 is designed for cruising long distances. Extended range and unique interior features make up for a slight offset in power.
The Mach-E California Route 1 can travel 305 miles on a single charge. It comes with Ford's Sync 4A system on a 15.5-inch touchscreen, which comes with voice recognition and many other software features.
Its panoramic fixed-glass roof allows for expansive views of the open road, scenery, and sky while still regulating heat throughout the car. It also comes with special 18-inch black aluminum wheels and ActiveX leatherette bucket seats.
Mach-E GT
The GT name has always signified Ford's fastest and most powerful models and the Mach-E GT is no exception. It has 480 horsepower and reaches 0-60 in a blinding 3.8 seconds.
The Mach-E GT trades slightly down in range in exchange for its extraordinary power. However, it can still ferry drivers up to 250 miles on one charge.
The Mach-E GT also enjoys custom styling, with more aggressive front and rear bumpers and new 20-inch wheels. The interior has specific GT detailing and higher front bucket seats for both safe and speedy driving.
Where to Buy the 2021 Mustang Mach-E
At Steve Marsh Ford, we serve the heart of Tennessee with a quality selection of new and used vehicles. We're committed to helping drivers every step of the way as they look for a new Ford car, truck, or SUV.
Are you ready to get behind the wheel of one of the new Mach-E Mustang trims? Click here to browse our Mustang Mach-E inventory or come down in person from 8 AM to 6 PM Monday through Saturday.