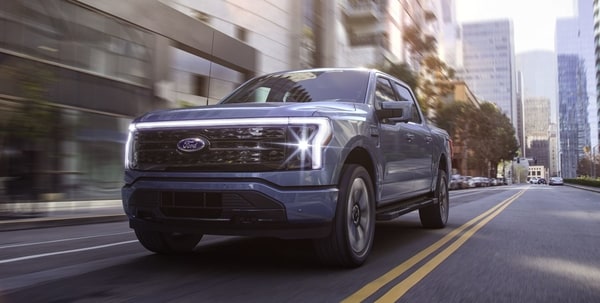 If you're a Ford fan and if you like the concept of electric pickups, now is the time to get excited. Why is this? Because Ford is releasing the first of its electric pickup trucks and it figures to be one of the top trucks of the future.
The truck we're referring to is the Ford electric F-150. Are you interested in learning more about it? Then read on. We're going to tell you everything there is to know.
When Will This Truck Be Released?
This truck is a 2022 model. At the present time, its expected release time is in the spring of 2022. Note, though, that you can reserve a spot to buy it now.
All you have to do is put down a $100 hold. This can be done at your local Ford dealership.
What Is the Name of This Truck?
The electric F-150 is not going to be called the Electric F-150. Instead, it is going to go by the name of the F-150 Lightning, a fitting name for a pickup that runs on electricity.
How Is It Expected to Perform?
The performance of the 2022 F-150 Lightning figures to be quite good. We'll discuss the specifics of its performance below.
Interior
The interior of the 2022 Lightning is a true beauty. Not only is it capable of sporting attractive leather upholstery (though the cloth upholstery is standard) but it also supplies a great deal of headroom, legroom, and cargo space.
It offers 5 seats in total, making it great for both work and leisure purposes. Whether you're hauling tools and equipment or are taking the family on vacation, this truck will serve you well.
Exterior
The exterior of this truck is everything that you might expect from an F-150. It's equal parts muscular and sporty, possessing a series of rounded yet angular lines.
Its bed volume is 52.8 cubic feet, meaning that it offers up plenty of space for both storage and hauling. In essence, it's like any other F-150, but with electrical power components as opposed to gas ones.
Power
Rest assured, this is a powerful truck. Its extended-range battery offers 563 horsepower as well as 775 pound-feet of torque. Amazingly, it can go from 0 to 60 miles per hour in just a little over 4 seconds.
So, whether you're using it to haul equipment or are just trying to get onto the highway in a hurry, this pickup will accommodate you.
Handle
This pickup is designed to perform on all types of terrains, from smooth highways to pothole-laden backroads to rocky off-road areas and more. Equipped with underbody protection and skid plates, it's ready to withstand the rough and tumble.
Regardless of where it is, it offers a smooth and comfortable ride. It takes to corners with grace and ease and is as relaxing a ride as you're going to find in a pickup.
Towing Capacity
Concerned that an electric pickup won't be able to tow anything substantial? With the Lightning 2022, there's nothing to worry about. This truck will tow up to 10,000 pounds. In addition, it has a payload of 2,000 pounds.
Operational Range
Obviously, this truck isn't gauged by gas mileage. As an electric model, it's gauged by its operational range instead.
The EPA expects its standard-range battery to provide 230 miles of travel on a full charge. Its extended-range battery, on the other hand, is expected to travel 300 miles on a full charge.
Charging Capabilities
Wondering how you'll go about charging this pickup? Well, it comes with an 80-amp charging station. This is known as the Ford Charge Station Pro.
In addition, it comes with a mobile charger. This possesses 32 amps and can be plugged into both 120V and 240V outlets. As such, it enables you to charge the vehicle just about anywhere.
Entertainment Features
For the purpose of entertainment, the 2022 Lightning is stocked with a 15.5-inch touchscreen infotainment system. This infotainment system possesses SYNC 4 technology, which enables you to access a variety of apps through both touch and voice.
Whether you want to listen to the radio or stream music through Bluetooth, you will be accommodated.
Special Features
There are a number of cool special features that come with this pickup. One such feature is Smart Hitch. Using sensor technology, this feature helps you determine the ideal way in which to hitch trailers to the back of the truck.
Another feature you should know about is Pro Trailer Backup Assist. This enables you to back up your trailer with the use of a simple knob. Turn the knob as needed, as your infotainment system will show you exactly where you're going.
One more feature you should know about is Trailer Reverse Guidance. This provides you with side camera views of the area behind you, allowing you to back your trailers in with as much visibility as possible.
How Much Is This Truck Going to Cost?
You're probably curious about how much this truck is going to cost. Its MSRP value is set at $39,974. Note, though, that mid-level trims will run at around $53,000 and its high-level trims will top out at around $90,000.
Again, if you want to get this truck as early as possible, you can reserve a spot to buy it by putting down a $100 deposit. Just go to your local Ford dealership and tell them that you would like to do so.
Reserve One of the Trucks of the Future Now!
As you can see, the electric Ford F-150 is undeniably one of the trucks of the future. It offers not only 100% electric functionality but a bevy of interesting features as well.
Interested in buying this truck? You can't just yet. But you can reserve a space to buy it in the future.
Reserve your space now at Steve Marsh Ford, located at 12415 South First Street, Milan, Tennessee.