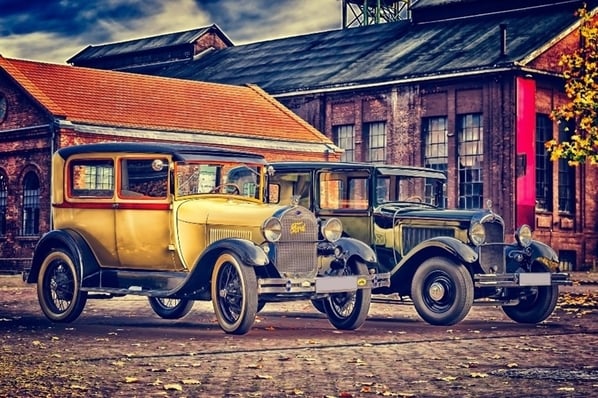 Now one of the largest automobile manufacturers in the world, Ford is a household name. But where did it all begin?
Ford's backstory is the classic American dream. Built by a man who wanted to revolutionize the world through mechanics and bring affordable, reliable automobiles to the masses.
We'll go through a brief history of Ford, from rather humble beginnings to the huge range of Ford vehicles on offer today.
The Man, The Myth, The Legend: Mr. Ford
The man who would eventually go on to found Ford Motor Group was avid inventor and mechanic, Henry Ford. Ford was born in 1863 in Springwells Township, Michigan, America. Of Irish and Belgian descent, Ford took an interest in reassembling and repairing pocket watches as a teen.
Instead of taking over the family farm, he left home for Detroit where he would work as an apprentice machinist. Later he was hired to service steam engines. His fascination with machinery and moving vehicles would eventually inspire him to begin attempting to build his own cars.
In 1892, Ford finished building his first motor car. A two-cylinder engine with four horsepower. It could reach speeds of up to 20 miles an hour, which was revolutionary for its time. He would go on to build a further three cars in his workshop at home, attempting to perfect the manufacturing process and fine-tune the engines.
At the same time, Ford worked as a chief engineer for Thomas Edison's Illuminating Company. This is where he eventually perfected the self-propelled vehicle prototype, known as the Ford Quadricycle.
Ford left Edison's company and founded the Detroit Automobile Company in 1899. His focus was on mass manufacturing high-quality automobiles. Unfortunately, the company was dissolved in 1901 as they were unable to do this for the low price that Ford wanted.
His misfortune wouldn't last long. That same year, Ford built and raced a 26-horsepower vehicle. Following this success, the stockholders of the Detroit Automobile Company formed the Henry Ford Company in 1901.
Ford was appointed chief engineer, but Henry M. Leland was brought in as a consultant in 1902. Ford, dismayed, left the company bearing his own namesake. The Henry Ford Company would be rebranded to become the Cadillac Automobile Company.
Ford Motor Company History
Never deterred, the inventor went on to team up with several old acquaintances from the automobile world. Eventually forming a partnership, Ford & Malcomson Ltd. This would eventually become the Ford Motor Company in 1903.
Within this era, Ford procured an 80-horsepower racing car, named the 999. He demonstrated the car's ability by driving a mile in 39.4 seconds across an icy Lake St. Clair. During this feat, he also set the new land speed record at 91.3 mph.
Racing driver Barney Oldfield was amazed by this feat. He toured the car around the country and began to build the recognition of the Ford name. Ford also began to sponsor the Indianapolis 500 to further cement this brand recognition.
History of Ford Vehicles
With the company finally established, Ford set his sights on producing his first mass-manufactured, affordable automobile. This would be the Model T. It's now generally regarded as the world's first affordable car.
The Model T debuted on the 1st of October, 1908. It had an enclosed four-cylinder engine and transmission, as well as the steering wheel on the left. Every other company would be quick to copy this.
It was sold for $825, which was the equivalent of $23,480 in today's terms. Due to how affordable the Model T was, by the 1920s the majority of American drivers had learned to drive in this car.
In 1913, Ford introduced moving assembly belts into plants. This hugely increased production, allowing sales to skyrocket and prices to plummet. By 1916, the basic Model T model was being sold for $360.
The Model T proved so popular that by 1918, half of all the cars in the United States were Model Ts.
Model A
Eventually, due to growing competition from General Motors and more luxurious cars becoming affordable, the Model T was discontinued. In 1926, Ford began work on the new Model A. Ford actually left a talented team of engineers to do most of the design work and functioned in more of a supervisory role.
The Model A was introduced in December 1927 and was well received. More than 4 million cars were produced until 1931 when the model was discontinued. It was this year that Ford adopted the annual model change system that automakers still use today.
Flathead Ford V8
The next major milestone for Ford would come in 1932, with the flathead Ford V8. This car was the first low price vehicle with an eight-cylinder engine. This was the car that would come to build Ford's reputation as a hotrod manufacturer.
This engine would go on to be revamped as the iconic Y-Block engine. This engine featured in the first of Ford's iconic muscle cars, the Ford Thunderbird. Which in turn would go on to inspire the most iconic of all cars… the Ford Mustang.
Ford Mustang History
The Ford Mustang was revealed in April 1964 at the New York World's Fair. It was originally predicted to sell a meager 100,000 units annually but surprised everyone when it sold more than 400,000 units in its first year alone.
This success continued as Ford sold their millionth Mustang within two years of the initial launch. In 2018, Ford produced their 10th million Mustang. To celebrate, they made the car a Wimbledon White convertible to match the first 1965 Mustang.
Find Your Ford
As you can see, the history of Ford proves it wasn't always smooth sailing for the automotive giant. But their high quality, low price mantra they began with still echoes in their models produced today.
If you'd like to find your next Ford, check out our website, or
get in touch
and we'll be delighted to help you find your new vehicle.