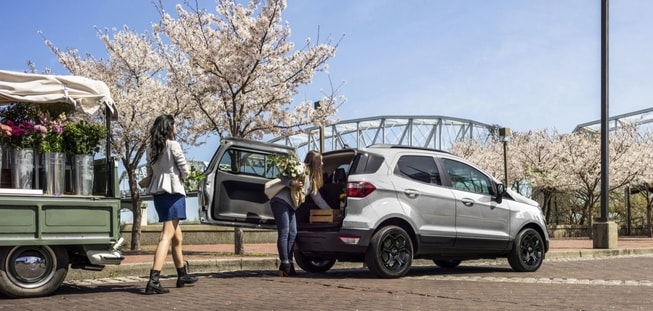 As crossovers and SUVs grow in popularity, car manufacturers have been introducing subcompact versions designed for those who prefer a smaller vehicle. These cars offer a high ride and a lot of storage space, while being affordable, maneuverable, and small.
One of the best Ford cars on the road is the 2021 EcoSport. According to Ford, the 2021 EcoSport offers "Fun, Freedom and Feel-Good Driving" at an affordable price.
The EcoSport features a stylish interior and a wealth of technological features. It is the perfect car for city drivers, solo drivers, or anyone who prefers a smaller yet comfortable crossover SUV.
New Features of the Ford EcoSport 2021
The EcoSport 2021 is fairly similar to earlier models. It has a slightly updated appearance, with larger headlights and a more streamlined hood. It also has a power driver's seat included in the highest-end trim option and new faux-leather seat coverings.
The 2020 model upgraded the touchscreen to 8 inches from 6.5 inches and added the FordPass Connect feature. FordPass Connect includes a WiFi hotspot for work on the go and an app that allows the owner to lock, unlock, and start the car from their phone.
The 2021 EcoSport starts at approximately $19,995 for the base S model, and $27,575 for the deluxe SES model, with a range of options in between.
Under the Hood of the Ford EcoSport
The EcoSport's small frame means savings on engine size and fuel economy. The engine comes in a standard 123-horsepower turbocharged three-cylinder engine. Drivers can also opt for an optional 166-horsepower four-cylinder engine.
The EcoSport has a surprisingly strong towing capacity for its size. The three-cylinder engine can tow 1400 pounds, while the four-cylinder can manage up to 2000. Though the EcoSport is largely a city car, it is prepared for medium-grade towing tasks.
According to the EPA, the EcoSport clocks in at 27 mpg in the city and 29 mpg on the highway. That's as much or more as competitors like the Chevrolet Trax or Honda HR-V at a lower starting price.
The EcoSport's limited warranty covers 3 years or 36,000 miles, while the powertrain warranty covers 5 years or 60,000 miles.
Ford EcoSport Interior
The Ford EcoSport 2021 is compact, but retains plenty of space in the interior, especially in the driver's area and front seats. Lower-end models feature cloth seating, while nicer trims feature ActiveX, a high-end and stain-resistant synthetic material. The steering wheel also has an optional leather trim.
An ambient interior lighting option lets you personalize the interior with a choice of seven colors, which can be adjusted by intensity.
Storage
The EcoSport has competitive cargo space while being slightly smaller than its rivals. All the back seats fold down individually, allowing the driver to customize to haul both cargo and passengers.
SE models and above come with a Cargo Management System that opens to allow more floor space or can be used as a shelf for multi-level hauling. An optional Cargo Management Package adds a cargo net and adjustable organizers.
The rear swing gate opens to the left rather than above, adding a unique style and a potential for easier loading.
The EcoSport also has a sealable glovebox which can be cooled with the car's air conditioning system for hauling grocery items or storing drinks.
Infotainment
SE models and above have an 8-inch color LCD touchscreen compatible with Apple CarPlay and Android Auto. Basic models have standard Bluetooth connectivity as well as an AM/FM radio.
Models also come with optional Sirius XM satellite radio as well as Sirius Traffic Link.
SE and above also come with Ford's Sync technology. Akin to Amazon's Alexa or Apple's Siri technology, Sync uses voice activation for navigation, music control, and more.
Safety Features
The Ford EcoSport 2021 comes with a suite of Ford CoPilot safety features. These include blind spot and cross-traffic alert systems. A reverse-sensing system helps you avoid objects and pedestrians when backing out. Voice-activated touchscreen navigation helps you keep your eyes on the road.
Lastly, Ford's Hill Start Assist technology prevents any backward motion on a hill or other incline. The braking system automatically holds the vehicle in place while transitioning from the brake to the accelerator.
The EcoSport received a four-star safety rating from the National Highway Traffic Safety Administration.
Ford EcoSport Trims
The EcoSport comes in four available models: the EcoSport S, SE, Titanium, and SES.
The EcoSport SE adds an 8-inch color LCD touchscreen. It also adds a power moonroof with sun shade. Lastly, an intelligent FWD system can adjust to different road conditions automatically.
The EcoSport Titanium includes these features, as well as heated front seats, and ActiveX material instead of cloth. It also adds a 10-speaker Bang & Olufsen sound system designed specifically for the EcoSport.
The top-of-the-line EcoSport SES includes the above. It also has a brand-new sport-tuned suspension for better handling around curves. It has an optional black appearance package with new outside trim and comes standard with the 2.0L four-cylinder engine.
All-wheel drive is also standard on the SES and available as an upgrade for any other model. The addition of all-wheel drive combined with the upgraded suspension makes the SES the ideal model for those who want a city car with outdoor capabilities.
Finding a Ford Vehicle for You
If you're looking for a compact combination of economy, towing capacity, and maneuverability, the EcoSport is the Ford vehicle for you.
We are a Ford dealership in Milan, TN, serving the Jackson, Trenton, and Humboldt areas. We offer a variety of new and used vehicles, including the 2021 EcoSport.
Stop by to browse our selection of Ford vehicles or contact us with questions about our inventory. We look forward to getting you behind the wheel of the Ford vehicle of your dreams.