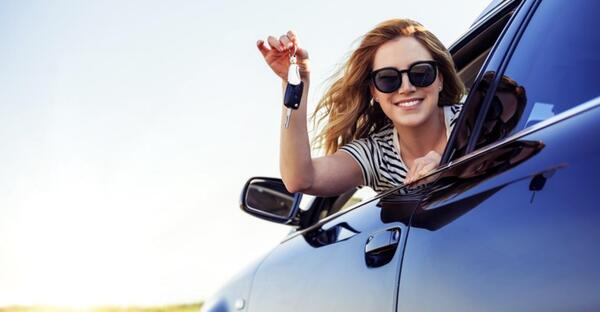 Picture it: you're pulling up to Yellowstone National Park in your new whip after spending the last few days roughing it out in Zion. The wilderness has treated you so well, but you've earned your night in the cabin.
Hot showers, a toilet, electricity. You're itching to get inside and take off those muddy, tired boots. As you grab your bags amid golden hour, you pause and look back at the reliable horseless carriage that brought you halfway across the country.
You pause to snap a photo because even a trash can looks beautiful with towering redwoods as the backdrop. Your first trip with your new used ford car. Thousands of miles of earth to traverse, and you want this moment immortalized.
You work too hard to stress safety and reliability. When you add the trust and uniformity of Ford's name to a restored automobile, it will always show up for you. Unwavering consistency. Unmatched security.
The Break Down
Regardless of your family network, someone's dad, at some point, talked to you about buying a used car. It is a true rite of passage.
Now, imagine harnessing the care and consideration of that dad energy and filling a building with it, wall to wall. That's the kind of experience you can expect from Steve Marsh Ford in Milan, TN. The Steve Marsh Ford crew combines years of industry experience. Practicing compassion and consideration for the customers they serve.
It's been a tough year, and the experts waiting to assist you in Milan, TN are here to help you navigate the most important questions to ask when buying a used ford car.
1. Is This Vehicle Certified Pre-Owned?
At the top of the list, making sure the used Ford car you're purchasing is certified pre-owned. The fine folks at Steve Marsh Ford don't take this lightly. Every vehicle comes in with a 172 point inspection.
Knowing your used vehicle ownership history can give you great insight into the heights it can climb to with you as it's the new owner. Not only do you receive a warranty with your used vehicle purchase, but you are also given an extended service plan coverage to help with issues down the road that stretch beyond your warranty.
Finally, the certified pre-owned model exists flexible financial options when considering credit needs.
2. How Much Life Will Your Used Ford Car Have Left in Her?
One of the hardest decisions when searching for your dream car is deciding what type of used vehicle you'll be purchasing. The life a Steve Marsh Ford CPO vehicle still has left can be measured through the AutoCheck score.
This nifty little tool can tell you exactly where your future car is in its life cycle. This score is based on other vehicles with the same statistics.
The AutoCheck score can help narrow the facts about a vehicle relating to its age, how many owners it's had, accidents, and other factors. You can also click on "report sections" to find out if there are odometer issues or recalls.
Having access to this knowledge puts you on a road of predictability. Being able to measure that is invaluable.
3. Can You Continue Servicing Your Vehicle With Steve Marsh Ford?
Studies show that keeping up with car maintenance can really squeeze out that last bit of juice. Knowing that you keep up with your yearly or quarterly services helps lower stress.
After you purchase a used Ford vehicle from Steve Marsh Ford, your working relationship evolves into a lifetime partnership. Between your representative and the technicians, you have an entire team ready to support you.
Mileage is a big conversation, and having your back with every turn of the odometer is what we're here to do. Whether it's a standard oil change or a post-accident check-in, rest assured that you have resources and options amidst the chaos.
4. What Else Should You Be Aware Of?
Let's say you've worked with a Steve Marsh Ford employee on finding the perfect used car for you. It's crunch time. The keys are almost in your hands. The AutoChecker tells you that your car has an above-average life left compared to others with the different variables.
However, it did have it's transmission replaced and the bumper had to be reattached. Whoever you're working with will be able to walk you through the vehicle records and pinpoint things that are crucial for you to be aware of.
Having that level of transparency creates rapport and stability in your professional relationship with Steve Marsh Ford. You'll find that mission to be open throughout your time building rapport with this organization.
5. What Insurance Adjustments Can You Expect?
Whether you're downsizing or upgrading, Steve Marsh Ford can help you figure out what impacts your new vehicle may have on your insurance policy. Depending on what you're parting with, it could go up, down, and turn it back around.
For example, if you're looking into 2019 Ford Ranger mods, you can guarantee you'll see an increase if you're switching from a 2016 Ford Focus. No matter the choice of your vehicle, your safety and coverage are imperative.
Our manufacturers step up to meet the grade that will perform alongside your insurance to make sure you are supported. In case of an accident, you will be provided on all sides. We can look into helping you navigate car insurance estimates and what costs will look like.
Are You Ready?
You cannot put a price on security. It's better to tell a cautionary tale than to live one. Whether you're a mother carpooling the kiddos or a contractor who needs reliability when traveling for work, Steve Marsh Ford can meet the needs of you and your family members.
Missing that graduation walk due to a timing belt issue from an old lemon is not in the cards for you this year. Demerits at work aren't, either. Connect with us and let us show you the used ford car that keeps on giving.