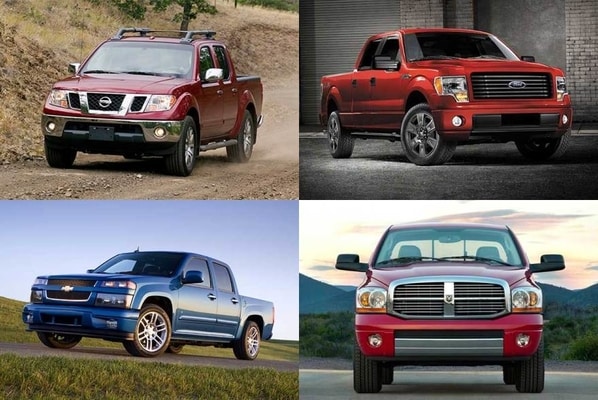 When it comes time to buy a vehicle, buying used is one of the most financially prudent options. Sure, it would be nice to have a brand new vehicle, but it might not be worth thousands of extra dollars to you.
Instead, consider buying a used truck. While technology advances rapidly, a truck that's a couple of years old will still grant you access to modern luxury, comfort, and safety features. More importantly, buying a used vehicle can save you tons of money on costs.
Not convinced? Keep reading for our top eight reasons to buy a used truck in Milan, TN.
1. Avoid Losing Money on Depreciation
First, and perhaps most importantly, buying a used truck can save you thousands of dollars in depreciation. Most people don't know how much money they're throwing out the window by buying brand new vehicles.
For example, new vehicles can lose up to 30% of their original value in the first year. Each year after that, they lose about 15% of their value.
Therefore, we highly recommend buying a used truck in Milan that's already one or two years old to avoid paying for the depreciation out of your own pocket.
2. Save Money On Costs
Depreciation isn't the only place where you'll save money. Obviously, used truck prices are going to be much lower than new vehicles, which can help you get pre-approved for a loan. However, you can also save money on insurance and registration costs.
In most states, registration fees are dictated by one of several factors, such as the age of the vehicle or the value of the vehicle. If you buy a brand new car, you can expect to pay hundreds of dollars more on your registration fees.
Secondly, insurance companies, like any other business, exist to make money. Insuring a brand new, expensive car is a higher risk for them. Therefore, your insurance payments are going to be higher.
3. Give Yourself More Choices
Another benefit of buying a used truck in Milan is that you'll have a lot more options. If you're buying a brand new pickup, especially on a budget, you may be limited on choices. New trucks will be more expensive.
When buying used trucks at lower costs, however, you open yourself up to a wider variety of options. Truck brands and models you wouldn't be able to afford brand new will be within your reach.
This can be especially important if you're looking at trucks based on performance, such as driving off-road, towing capacity, hauling payloads, etc.
4. Scale-Up in Class
When comparing truck prices, you'll notice that the brand new, fully loaded options can reach $60,000 or higher. Unfortunately, most people can't afford the monthly payments or even get approved for a loan that large. But that doesn't mean you have to forego luxury and comfort.
While brand new trucks have the absolute latest truck features, you'll find previous models a year or two older aren't incredibly different. They may lack small updates, but an older fully-loaded pickup is still a product of luxury, comfort, and technology. Best of all, because of depreciation, these high-end models become quite affordable after a couple of years.
5. Get Peace of Mind With the Vehicle History Report
Some people fear to buy used vehicles because they're afraid of getting stuck with a lemon. Everyone's heard horror stories of buying a used car only to find major issues. However, that scenario is something of the past.
Modern technology has made vehicle history reports more accurate than ever. These important documents track a car from the moment it leads the production line. It tracks and records valuable information, such as:
· Previous owners
· Locations of registration
· Factory recall issues
· Major damages and repairs
· Maintenance history
· And more
When you buy a used truck in Milan, odds are you'll be able to see every oil change, tire rotation, and more in its history. This can give used truck buyers peace of mind about their investment.
6. Gain Access to Warranties with Certified Pre-Owned Trucks
Speaking of peace of mind, some people feel more comfortable buying and driving a truck when they know it's under warranty. While traditionally used trucks don't come with warranties, you can opt for certified pre-owned trucks.
CPO trucks are generally only a few years old and lightly used. They have low mileage and have never been in a major accident. The certifying party thoroughly inspects the vehicle and makes any necessary repairs to the mechanical, electrical, or aesthetical well-being.
After the vehicle is refurbished to like-new condition, it is placed for sale with renewed warranties. These warranties typically provide bumper to bumper coverage for 36 months or 36,000 miles and drivetrain coverage for 60 months or 60,000 miles.
7. Find Exclusive Offers and Other Specials
Another perk of shopping for a used truck in Milan is dealership specials and promotions. Dealerships in Milan often run amazing used car specials that provide buyers with heavy discounts, waived fees, zero percent financing, and more.
Check with local dealerships to see what kind of promotions they're running. If you have a trade-in vehicle, be sure to mention it to see if they have any deals regarding trade-in values.
8. Driver Reviews
Finally, when buying a used truck, you have the privilege of seeing what other drivers have to say about the same year and model of the truck you're interested in. Looking up driver reviews is a great way to uncover any common issues or complaints with the truck.
Brand new vehicles are somewhat untested in day-to-day life, which is where factory recalls come from. There could be issues with the electrical system, brakes, airbags, or more. If you buy a truck that's been around for a few years, most of these bugs will already have been worked out.
Looking for a Used Truck in Milan?
If you're in the market for a used truck in Milan, be sure to check out some of the used pickups in our inventory. We offer a wide range of trucks, including crew cabs, short beds, long beds, and more.
If you want more information, be sure to check out some of the other articles on our blog. And feel free to contact us if you have any questions or concerns. We look forward to hearing from you.