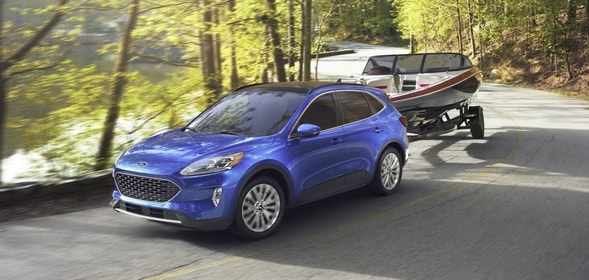 The first Ford Escape hit the market way back in 2001 when Ford decided to make a compact SUV in partnership with Mazda. It sits above the subcompact EcoSport and below the mid-size Edge. Currently, the Escape is in its fourth generation and arguably at its best.
But are Ford Escapes good cars? And if so, who exactly are they good for? Continue reading and we'll walk you through everything you need to know.
Interior
Inside, the 2020 Ford Escape minimal but elegant. There are textural interests on the door panels which are soft in the front and hard in the rear. Also, the armrests are well-padded.
Another great feature is the sliding, second-row seats. Those seats also recline to a very comfortable position. There's plenty of head clearance and leg clearance back there too.
The middle position is also quite accommodating.
For storing small items, there's a large, center console, a healthy-sized glovebox, plenty of door storage, cupholders, and also handy front bin.
For bigger luggage, the cargo area offers up to 37.5 cubic feet with the rear seats fully forward. And if you lift the cargo floor to access the spare tire, the floor panel can actually stay up on its own.
Infotainment
Ford has given all of the levels, except for the S trim, an eight-inch, Sync 3 touchscreen. Android Auto and Apple CarPlay smartphone integration come standard. Alexa voice recognition is also available.
Plus, the infotainment system comes with Bluetooth and audio streaming. The factory navigation system is going to be an available option if you want it. You can check in on the climate control from the touchscreen as well.
There's also a dedicated off button for the screen. This makes it easier for you to redirect your attention to the road instead of being distracted by the screen.
Drive
The 2020 Ford Escape provides a quiet and comfortable ride. Handling the propulsion duties is a 1.5-liter 3-cylinder engine. Yes, you heard that right - 3 cylinders.
Despite only having three cylinders, the engine still makes for respectable power thanks to the beauty of turbocharging. A turbocharger also powers the 2-liter 4-cylinder engine that's offered on the SEL and Titanium trims.
Both engines feature an 8-speed automatic transmission.
While the Ford Escape is competitive when it comes to fuel economy, but if fuel efficiency is a top priority for you, then you should consider the Escape Hybrid.
Ford was way ahead of the competition when it came to hybrid SUV technology. They introduced the first Escape Hybrid way back in 2005.
In its latest form, the Escape Hybrid delivers a total system output of 200 horsepower and several modes that let drivers decide when to utilize its electric capacity. Electric torque gives the hybrid satisfying immediate pull when you press the accelerator.
Choose the SE Sport and Titanium trims to get the hybrid powertrain as standard. Additionally, Ford offers a plug-in Escape Hybrid that features a pure electric driving range in excess of 30 miles. It also comes with a slight horsepower advantage over the basic Escape Hybrid.
Safety
Ford Co-Pilot360 is standard all of the Ford Escape trims. That's an active safety suite that bundles a range of features.
With Blind Spot Information System (BLIS), your car will alert you if it detects a vehicle in your blind spot. The system uses radar senses that are located on both sides of your car's rear. When it detects a car in your blind spot, you'll be alerted by an indicator light flashing in the side view mirror.
There's even a visual display in the message center that will let you which direction the vehicle is coming from. And the Cross-Traffic Alert lets you know if there's traffic behind your car while you're slowly backing out of a driveway or parking spot.
There's also emergency braking with pedestrian detection and lane-keeping assist. In action, lane-keep assist reacts swiftly and smoothly to keep you within your lane.
You can also add full-speed adaptive cruise control, steering assist, and a highly competent automatic parking system. That system operates the steering wheel, accelerator, brake, and gear selector.
Trims
If you want to keep it simple, you can buy the base Escape S trim with 2 USB ports for Co-Pilot360. It also comes with a rear armrest and a variety of driving modes.
You can also upgrade to the SE trim. The heated 10-way power driver's seat, automatic AC, 8-inch Sync 3 infotainment system, keyless access make it a worthwhile investment.
On the higher trims, you'll find a 12.3-inch digital instrument cluster, a head-up display, wireless phone charging, and USB-A and -C ports. There are also a 575-watt, 10-speaker, B&O audio system, a hands-free tailgate, and Fordpass Connect. That last feature lets owners lock and unlock and remotely start their vehicles using their smartphone.
So, Are Ford Escapes Good Cars?
Hopefully, after reading the above review, you now know the answer to the question, "are Ford Escapes good cars?" As we can see, the 2020 Ford Escape is an excellent and comfortable compact SUV that the whole family can enjoy.
The car is safe as well as fun. And thanks to its many trim levels and options, there's a Ford Escape that can fit every kind of driver's lifestyle and budget.
Of course, reading a review is one thing. But trying out the car for yourself is something entirely different. Do you think the 2020 Ford Escape might be for you?
If so, then contact us today and see how we can help you!