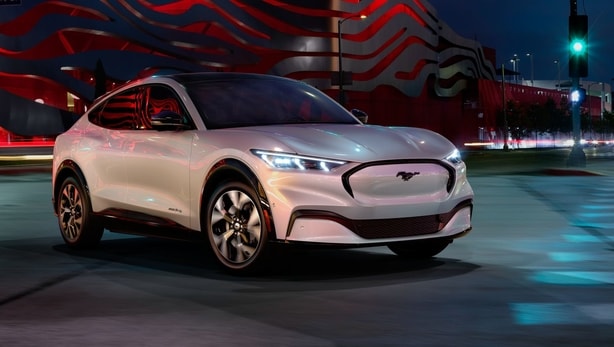 Forging an iconic past with an electrified future is no easy feat, which might be why it's taken Ford 55 years of fine-tuning to expand its
iconic Mustang
line up to include the new Ford Mustang Mach-E.
But a new day has dawned, and with it, a new all-electric, performance SUV has arrived. Just one of Ford's 16 fully electric vehicles due to arrive over the next two years, the Mach-E is expected to be Tesla's next contender.
With some seriously iconic shoes to fill and an established fan following, the Mach-E has its work cut out. Fortunately, as with the ponies that came before it, Ford has focused on creating a striking performance vehicle - that just happens to be electric. Here's everything you need to know about the 2021 Ford Mustang Mach-E.
Ford Mustang Mach-E Models
Excluding the First Edition model, there are four trim levels available for the Mach-E:
· Select
· Premium
· California
· GT
All models excluding the GT are expected to be available from late 2020, starting from $42,895 excluding any federal tax incentives. The GT is available to reserve, but isn't expected until late summer 2021 and starts from an estimated $60,500.
Please note, the current Covid-19 situation may affect dealership delivery times.
Mustang Mach-E Dimensions
The Mach-E sits on the new Ford EV platform, the GE2 (Global Electrified 2) which is a reworked version of the C2 architecture. It's heavier than its predecessors, weighing in at 4,394 to 4,890 pounds depending on trim.
The vehicle measures at 4,712mm in length, 1,811 in width and 1,597mm in height, boasting a spacious 402-liter rear boot, and a 100-liter front luggage bay where a conventional engine would normally sit.
Mach-E's Engine Performance
Because of the extremely customizable nature of the Mach-E range, performance can get a bit complicated, so let's break it down.
There are two battery choices available to meet your performance needs with the Mach-E - the standard or extended range. Both of these options come with drivetrain options of either rear-wheel or all-wheel drive.
Starting with the standard range, this engine will offer you 266 horsepower, between 317lb to 428lb of torque (depending on RWD or AWD), and a targeted EPA estimate of around 230 miles for rear-wheel models and 210 miles for all-wheel models. For rear-wheel drive, you'll go from 0 to 60mph in 5.8 seconds or 5.2 seconds with all-wheel drive.
With the extended range, this engine varies between 290 horsepower for rear-wheel drive and 346 horsepower for all-wheel drive, offering the same torque as the standard range. The extended range targeted EPA estimate is 300 miles for rear-wheel drive, lowering to 270 miles for all-wheel drive. If you're going for the rear-wheel-drive model, your 0 to 60mph acceleration will take 6.1 seconds or an impressive 4.8 seconds for all-wheel-drive models. The maximum speed for both engines tops out at 111mph and both have a 750-kilogram towing capacity.
Though the Mustang Mach-E GT model specifications haven't been announced just yet, rumor has it there's an awesome acceleration from 0 to 60mph in the mid-3-second range.
All trims come with 3 different drive modes - paying homage to their equine roots with thematic names; Whisper, Engaged and Unbridled. Each of the modes will tweak the steering, pedal feel, and sound. Whisper offers a more laid back drive, while Engage offers the more traditional Mustang drive experience. As the name might suggest, Unbridled offers more throttle and aggressive steering.
As electric cars are eerily silent, Ford has cleverly added artificial engine noise, so these driving modes will reflect the engine sounds you'd expect to hear within the cabin from a V8 engine.
Mach-E Charging
Ford has put some serious investment into their charging network in recent years and now boast 12,000 locations in the US on the FordPass charging network. Access to this network for 2 years comes with the sale of any of their electric vehicles.
Equipped with a DC fast charging port, the Mach-E charge times are impressive and practical. The battery can go from 10% to 80% charge in 45 minutes.
The Mach-E also comes with a home charging cable for every car, which works with either 120-volt or 240-volt outlets. Though it is worth keeping in mind charging off a 120-volt outlet will be painfully slow!
Exterior and Interior
It might be the first SUV and four-door vehicle to bear the Mustang badge… but the looks are all Mustang. With striking visual elements tying the Mach-E to its ancestor like aggressive geometric headlights on a long hood, broad rear haunches, and of course, the iconic three-bar taillights. This is a Mustang for the modern-day.
Wheels will vary from 18-inch alloys up to 20-inch alloys depending on trim, as well as an optional panoramic fixed-glass roof. There are 7 colors available to pick from, as well as custom body kits for higher specification trims.
Unlike the Mustang Coupe that came before it, the Mach-E is a car built to be used. Roomy, synthetic (and 100% vegan if you're interested) interiors will greet you, with a dual-cowl motif dashboard hinting at its heritage.
There are five, usable seats inside. One of the huge benefits of electric vehicles is that with no driveshaft to connect the engine to wheels like in conventional engine vehicles, the rear floor is flat and more spacious. The boot is a spacious 402 liters or 1420 liters with the rear seats down. Stretch out and enjoy the space while using the Bang & Olufsen audio system.
The biggest change you'll find to the interior is the vertically mounted touchscreen with next-generation Ford SYNC system. This nifty bit of kit features cloud-connected navigation, over the air updates when needed, as well as iOs and Android compatibility.
Mach-E Technology
As with all newer cars, particularly electric, the technology featured in the Mach-E is abundant. The sheer amount of it makes it difficult to create an exhaustive list, but it features all the safety features you would expect of a new vehicle. As well as a whole host of drive assisting technologies like a hands-free tailgate, advanced active park assist, and intelligent adaptive cruise control.
FordPass Connect also means you can integrate your phone with the car's own smart system and use your phone as your key. Clearly thinking ahead to the possibility of low phone batteries, there's also a wireless charging pad within the car.
Ford Mustang Mach-E Pricing
· First Edition: MSRP starting at $58,300
· Select: MSRP starting at $42,895
· Premium: MSRP starting at $47,000
· California Route 1: MSRP starting at $49,800
· GT: Estimated MSRP starting at $60,500
All models come with a 3 year/36,000 mile bumper to bumper warranty as well as an 8 year/100,000 mile warranty for electric unique components for your peace of mind. The good news keeps on coming as the Mach-E also qualifies for the $7,500 federal tax credit available from late 2020.
Just Can't Wait?
If you can't hold until 2021 for the new Ford Mustang Mach-E, check out our current
Ford Mustang stock
or speak to our sales team on (731) 686-7461.