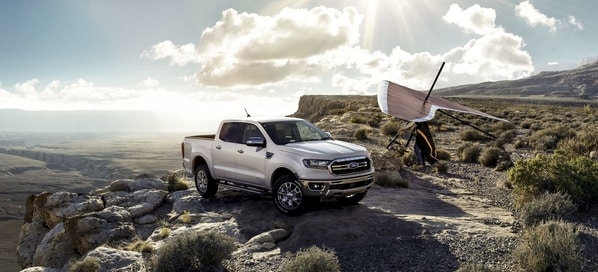 The Ford Ranger has been one of the U.S. automaker's flagship trucks for the better part of almost 40 years.
First released in 1983, Ford sold millions of Rangers until it halted production in 2012. Seven years later, the Ranger returned to Ford's lineup and the compact truck sold more than 89,000 units.
The latest edition of the Ford Ranger builds upon everything that's made this truck such a popular model for people of all ages.
Read on to learn more about the 2020 Ford Ranger specifications and what sets this vehicle apart from the competition!
Three Trim Levels
The 2020 Ranger comes in three different trim packages and has a base manufacturer's suggested retail price (MSRP) of $24,410.
The XL package comes standard with a 2.3-liter EcoBoost engine. This inline-4 cylinder engine makes 270 horsepower and 310 lbs.-ft. of torque, which helps it have a lively response during daily driving.
With a curb weight of under 4,000 pounds for the SuperCab XL, the 4x2 drivetrain gives drivers ample control over the vehicle.
The XLT package has the same sized engine and power production as the XL, but with a starting price of $28,460, it comes with extra features the XL doesn't. We'll take a closer look at this later.
Finally, the Lariat boasts the 2.3-liter EcoBoost and starts at an MSRP of $32,500. This is the model's flagship trim package and comes with a wide range of goodies that make it unique from other options.
Exterior Styling
The 2020 Ranger has maintained the styling cues that are unique to this model while also improving the looks and style to make it appealing to today's truck buyers.
The Ranger has STX and FX2 packages which allow you to personalize the look of your new truck to your preference.
The STX package includes 17-inch aluminum wheels, box decal, and fog lamps. Inside your vehicle, the STX package includes four-way ebony black premium cloth front seats.
The FX2 package is all-new for this model year and is designed for the truck buyer who wants to take it off-road. The FX2 body decals give the exterior a bold and stylish look, while 18-inch wheels provide for a more aggressive look. The package also comes with an off-road suspension and electronic locking rear differential.
The suspension and differential packages give you a safer and more secure ride when you take your Ranger off the streets.
Interior Styling
The new Ford Ranger is undoubtedly the most luxurious edition of this model ever released.
A lot changed between the time that the Ford Ranger stopped being built in 2012 and when it was re-released under the same name in 2019.
Over that seven-year timeframe, Ford made an increasingly stronger effort to differentiate itself from the competition based upon a superior interior.
After the 2019 model received raving reviews for its quality interior and strong interior design lines, Ford built upon that success with the 2020 edition. While the 2020 model comes standard with a premium cloth seat, leather upholstery gives the Ranger a smooth, clean feel.
Despite its designation as a 'compact truck', the Ranger has large amounts of leg and headroom. This makes for a spacious interior for people upwards of six feet, six inches tall.
American-made vehicles have long had a reputation of lagging behind the competition when it came to interior build quality. However, vehicles like the Ranger are living proof that U.S. automakers are focused on luxury in and out.
Superior Sound System
The Ford Ranger has upped the ante with its sound system which gives it one of the highest quality sounds in the industry.
The Bang & Olufsen (B&O) system includes 10 different speakers and makes 675 watts of power. The B&O stereo system is only available on SuperCrew models of this year's Ranger.
The system includes speed adaptive volume controls which allow you to enjoy music and radio at a volume that adjusts as you increase and decrease your speed. This feature can be switched on and off so that you have the most enjoyment as you drive your Ranger.
Towing Capability and Fuel Efficiency
The Ford Ranger has a towing capability of 7,500 pounds which allows owners to tow boats, jet skis, and other trailers with ease.
Ford built its inline-four engine to give you the best performance while not overlooking fuel efficiency.
The 270-horsepower is enough power to give you an exciting powertrain. It also helps you maintain an average of 21 miles per gallon in city driving and 26 miles per gallon on the highway.
Ford's EcoBoost turbo engine is direct-injection and pairs to the 10-speed automatic transmission. The 10 speeds allow the driver to maneuver across all kinds of terrain.
While many truck buyers like Ford's V-8 engine, this inline-4 is the perfect combination of power and fuel efficiency in an affordable package.
Whether you are on the highway or are off-roading, your Ford Ranger is built to last.
Wrapping Up: Test Drive a 2020 Ford Ranger Today
The 2020 Ford Ranger is a stand-out truck when compared to the models offered by other American automotive manufacturers.
It offers drivers and passengers a stylish option with cutting-edge technology at an affordable price. The Ranger is also backed by the Ford name - an American-made vehicle with more than 100 years of experience in the automotive industry.
Are you interested in learning more about the 2020 Ford Ranger? At Steve Marsh Ford, we are your source for all Ford cars and trucks in and around Tennessee.
Contact us today to schedule a test drive of the 2020 Ranger and learn about our affordable financing options!