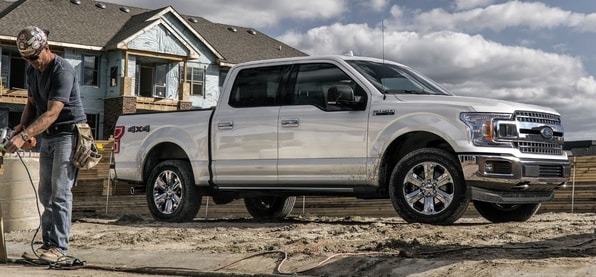 When people picture America, most will think of pickup trucks. And when you look at the numbers, they fully support this. They're the most common vehicle in the US, with a 20% market share.
If you want to purchase a new car soon, a top contender might be a truck.
In that case, are you wondering: what is the number 1 selling truck in America? Then keep reading. We'll give you the answer to that question, as well as the 9 runners-up.
1. Ford F-Series
The Ford F-series has been the best selling truck in American for over 43 years. Their best selling car of all time is the F-150.
However, it's not just the F-150 that's amazing. The F-series has an incredible range of trucks up to the Super Duty line that'll perform outstandingly.
Ford definitely doesn't disappoint, which is evident in the consistency of their sales. Not only do you get a beautiful truck, but you also get the best tech, comfort, and safety when you choose Ford.
2. Chevrolet Silverado
The Chevrolet Silverado is a full-size pickup that's Ford's biggest rival. However, it can never match up to Ford, but instead, constantly has a battle with Ram pickups (more on those later).
In 2020, the Chevy Silverado's won out against Ram pickups for the number 2 spot. This means it's a truck you can definitely rely on. However, do note that the interior is a bit lacking.
3. Ram Pickups
When you think of pickup trucks, you probably don't usually associate luxury with them. However, Ram challenges the norm of pickups and offers both power and refinement.
Ram pickup trucks have all the things you'd expect of a truck: great towing and hauling, as well as a strong exterior look. But in addition, when you peek inside, you'll find a premium interior that many other truck brands don't match. So if you're looking to drive in style, Ram pickups may be right for you.
4. Toyota Tacoma
This is the best-selling midsize truck in the entire country. Considering it's Japanese-made, you can count on the Tacoma to have great reliability.
With the 2020 model, you'll get a power-adjustable driver's seat, in addition to a large touchscreen. It'll also come standard with integration for Amazon Alexa, as well as Android Auto and Apple CarPlay.
5. GMC Sierra
The GMC Sierra is a sturdy heavy-duty truck that'll complete whatever job you need done. It's amazing at towing and hauling, plus it offers lots of comfort while you're behind the wheel.
However, many agree that for the price you're paying, the interior is a bit disappointing. As far as the exterior goes, it's pretty sleek.
6. Toyota Tundra
Here's another Toyota pickup truck that performs well. The Tundra doesn't compare as well to the Tacoma, but still is a sturdy choice when it comes to pickups.
For those of you concerned with vehicle interiors, you may also be a bit disappointed with the Tundra. It does look a bit outdated, but you definitely will stay comfortable during your drives. Do note that there's a redesign soon, so this may all change in the near future.
Also, be aware that the Toyota Tundra is quite a gas guzzler, so be prepared to spend a significant amount on gas if you buy this truck.
7. Chevrolet Colorado
The Chevrolet Colorado is an impressive truck that is both rugged and refined at the same time. This Chevy truck boasts of great engine choices, as well as plenty of build options to choose from.
While it's a decently-sized truck, the Chevy Colorado still offers a comfortable ride, wherever you go. In addition, you'll get a great towing capacity.
With the 2020 model, you'll get an upgraded infotainment system and more features for both standard and extra packages.
8. Ford Ranger
It shouldn't come as a surprise that Ford has other trucks that place in the top 10. If you're looking for a smaller truck, the Ford Ranger can be a good alternative to the F-series.
Its smaller size makes the Ranger perfect for everyday driving, as well as off-roading. Get the perfect blend for all types of driving with this car.
9. Jeep Gladiator
Jeep may be famous for its iconic SUVs, but they also make a decent pickup truck. They started making the Gladiator in 2019, which retains the classic Jeep look while providing pickup truck capabilities.
This all-terrain vehicle has 4 doors and can haul and tow, as well as enable you to drive through any land you want to get across. If you're looking to go off-roading, this can be a good choice.
10. Nissan Frontier
Last on this list is another Japanese-made pickup truck. What's admirable is Nissan has continually made updates and changes to their Frontier truck, so with each year, you'll get a better vehicle.
For 2020, this pickup truck got a next-gen engine, which gives it lots more power. Plus, it now has a 7-inch infotainment system, Bluetooth, and a rearview camera for safety.
The main advantage of buying the Nissan Frontier is it has a much lower MSRP than the other trucks on this list.
What Is the Number 1 Selling Truck in the US? The Ford F-Series
So what is the number 1 selling truck in the US? It's the Ford F-series by far.
Seeing as this car brand's consistently produced reliable and powerful trucks, it's clearly the best option if you're in the market for a new one. So put your money to good use and purchase the best selling truck in the country.
Are you interested in test driving some Ford pickup trucks? Then drop by our dealership. You can also contact us with any questions or concerns; we'll be happy to address them!