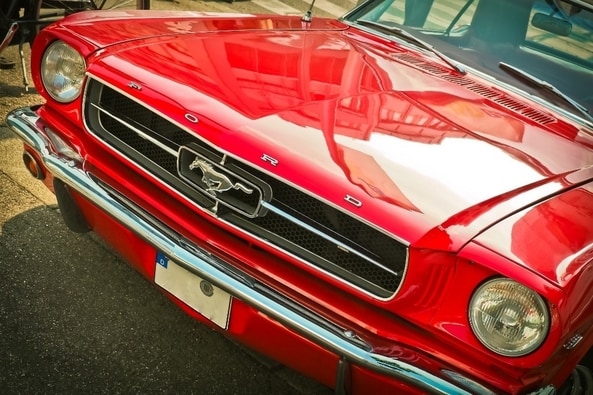 You finally bought the
Ford Mustang
you've always wanted. Or, you've had one for a while now.
Did you know that some mods can add value to your Mustang?
Before you buy, you want to make sure that you don't ruin your car with mods that take away from its performance.
Keep reading for nine of the sickest Mustang mods that you have to get your hands on.
1. Cover Up
A car cover is the last thing on your mind when you're thinking about a modded Mustang. Who wants to spend money on something you can't show off?
If you want to keep your bada$$ Mustang in tip-top shape, a car cover should be one of the first items on your list.
Even a simple cloth cover will protect your car from scratches, dings, dents and harsh weather.
Trust us, your modified Mustangs will thank you!
2. Interior Mustang Mods
It's easy to impress people on the street with loud and colorful mods, but what about your passengers? Upgrade the interior of your Mustang to get a sense of individuality from the inside.
Floor mats are a great way to make your car stand out, and they make cleaning so much easier. They'll also protect your Mustang's carpet from stains and mold.
A steering wheel cover can give you a pop of color, or more grip if you're taking your modded Mustang to the track.
Seat covers are another great way to make your car look unique. Some higher-end covers can add an extra level of comfort for you and your passengers.
3. Cool it Down
Ford Mustang mods aren't all about looks. While the Mustang is already a powerful car, you can increase that power with cold air intakes.
A cold air intake will push cooler air through your engine at a higher rate than the stock intake. This will give your mustang more power, increased acceleration, and better gas mileage.
This requires a little more work than slipping on some seat covers. If you're not the mechanic type, schedule a service with Steve Marsh Ford to get your Mustang upgraded.
4. Exhaust It
This is one of the mods Mustang owners will all agree is worth it. Upgrading your exhaust system will make your car stand out loud and proud.
There are a few different types of exhaust systems to choose from. The most popular are cat-back and axle-back exhausts.
A cat-back system replaces exhaust pipes from your catalytic converters to your mufflers. An axle-back replaces your pipes from the axle and back.
Either way, getting a new exhaust system is going to make your Mustang super loud. You'll be turning heads, but it'll also make it safer to be on the road; everyone knows you're coming.
5. Suspense
Changing up the suspense on your Mustang will make it look sleeker and improve the handling.
A lower suspension helps increase the friction between the road and your tires.
Lowering your Mustang is going to make your ride a lot smoother. You'll notice less jerking in your stops and turns.
It also makes accelerating less like taking off in an airplane. No more spills or sore necks for you!
6. Light it Up
Lackluster headlights can increase your chance of an accident at night.
You can improve the brightness for safety, and add a little flair to your lights while you're at it.
Halo lights are the way to go when it comes to headlights. They're bright, they last a long time, and you can get them in a ton of different colors if your state's laws allow it.
Sequential turn signal tail lights are one of the coolest Mustang mods around. The cars behind you will also appreciate how easy they are to see day or night.
7. Spoilers
Spoilers can add a super cool look to your Mustang. They can also help your performance if you're taking your car out to the track.
Installing a spoiler will help your Mustang increase its traction at high speed. It will also reduce the amount of drag that slows your car down.
Even if you aren't a speed demon, adding a spoiler for the look of it won't hurt your car's performance.
8. Carry a Tune
When you get a car straight off the lot, it isn't going to perform to its full potential.
There are tons of regulations and quotas that car manufacturers have to meet. The point of most stock cars is to get you from point A to Point B.
To unlock all the abilities of your Mustang, you're going to want a tuner.
A tuner will allow you to get the greatest horsepower from your Mustang. It also makes sure that your Mustang can handle and process all your other mods safely and efficiently.
9. Wheel and Deal
Switching up your Mustang's wheels can change the entire look of the car. With the variety of tires and rims these days, you can go from sleeper to sport with a single visit to the garage.
The tires you choose will depend on where you live and what you use your car for.
Say you only use your Mustang to go to work and run errands. All you need are a set of all-season tires.
If you like to race on the track every weekend, you'll need high or ultra-high performance summer tires.
If you live somewhere that usually has snowy and icy roads, you'll need a good set of snow tires.
Choosing rims is less about the performance and more about your desired look.
Smaller rims will give your modded Mustang a vintage look. Bigger rims will modernize your car.
The color and style are all about personal preference, so have fun with this one!
Drive On
You have all the facts about the sickest Mustang mods, now it's time to upgrade that pony.
Shoot us an email or give us a call if you need your Mustang serviced. If you don't have a Mustang yet, we can certainly set you up with one.