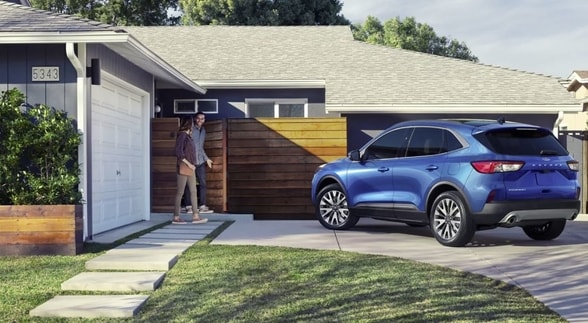 For many years, consumers had to choose between fuel economy and cargo space—Not anymore. Ford's newest SUVs are part of a growing trend that lets drivers enjoy the best of both worlds.
Sports utility vehicles, often referred to simply as "SUVs," started to reach their current all-star popularity around the late 1990s. As more consumers turned on to the roomy, durable vehicles, auto manufacturers started canceling car models.
Nowadays, SUVs are some of the most popular autos on the road. From Ford SUV models to Asian and European utility vehicles, the modern driver has an almost endless variety of options to choose from. In fact, one might have more trouble finding a smaller car.
SUVs aren't the vehicles they used to be, and you're missing out if you're not up to date on the newest Ford SUV lineup. Not to worry, though, because all the information you need on Ford's most recent SUVs is right here.
2020 Ford EcoSport SUV
It wasn't uncommon to hear the term "gas-guzzler" used in reference to SUVs through the 2000s and even into the 2010s. Despite poor fuel economy in their early years, people came to value SUVs' roominess and convenience.
Yet, rising gas prices and environmental concerns made drivers up through the 2010s question if SUVs were worth it—or if they could afford to drive one at all. That put auto manufacturers and marketers in a tricky position.
Over time, consumer pressure got automakers to bring energy-efficient technology to SUVs. Ford embraced the environmental challenge to the point that they released a utility vehicle called an "EcoSport."
It's able to get 27 city/29 highway MPG, figures comparable to some small cars.
It's an automatic vehicle but offers Ford's SelectShift semi-automatic Sport mode, and has features like ample airbags and a rearview camera to keep everyone safe.
If you need a roomier vehicle with good fuel economy, the EcoSport is worth a look. Plus, if you're interested in "smart" driving technology, you can also opt for parking assist, smart lane handling, and more.
2020 Ford Edge SUV
Ford's 2020 Edge boasts the same EPA-estimated 29 highway MPG as the EcoSport but has a lower estimated 21 city MPG. If you're an outdoorsy type or need an off-road vehicle for another reason, the Edge could suit you well.
You will find reverse parking sensors and a blind-spot warning system to help guide you for parking and backing up.
2020 Ford Escape SUV and PHEV SUV
In 2020, Ford offers its famous Escape in a wide range of traditional, hybrid, and plug-in hybrid (PHEV) trims. Because there are so many trims, there's no one set of estimated fuel economy numbers.
Gasoline-fueled models range from the Titanium 8-speed automatic that comes in at 23/31, up to the hybrid 43/37.
The PHEV version gets 102 MPGe, meaning it gets 102 miles from the same amount of energy contained in a gallon of gas.
This Ford electric SUV starts around $33,000. For such an innovative vehicle, that price is a serious steal. There's no better deal around on a new electric vehicle of this size, boasting that degree of efficiency. The PHEV is also built to party, with AM, FM, and XM radio, six speakers, and smart device integration for both Apple and Android phones.
If you go the traditional or hybrid route, you'll be without some of the entertainment upgrades. Those trims have Bluetooth capability for your phone, but no XM or Android-specific connectivity. Yet, Ford's AppLink system is included and should get your smart device working in any Escape trim without issues.
2020 Ford Expedition SUV and Ford Expedition MAX SUV
If you're not as concerned with fuel economy and prefer a more classic SUV, the 2020 Expedition is the thing for you. It's a larger model that rates at an estimated 17 city/23 highway MPG.
While the 2020 model doesn't come in an electric or hybrid trim, the engine does come with Ford EcoBoost technology. It reduces emissions and without it, you might not get that 17/23 fuel economy.
If you're on the hunt for extra cargo space, look no further than the 2020 Ford Expedition MAX. It shares a lot with the standard Expedition, but has more room to stow your things, and more towing capacity for all the things that don't fit.
2020 Ford Explorer SUV
2020's Ford Explorer is another more traditional SUV option but gets a bit better fuel economy at 21 city/28 highway. It's not as sporty as the EcoSport and not as rugged as the Edge, but is a great compromise between off-road ability and fuel economy and function suited for everyday city life.
Among other great features, you can get one outfitted with all the modern entertainment and convenience features, like Sirius XM, Bluetooth phone connectivity, remote keyless entry, and the remote engine starts using a smart device.
Drivers looking for the most advanced safety features will be happy to learn that the 2020 Explorer gives them a chance to check out Ford's Co-Pilot360 Pre-Collision Assist with Pedestrian Detection mitigation.
In plain language, this means that the car will give you a heads up when someone or something crosses your path. If you're on course for a collision, the Explorer with Co-Pilot360 activates the brakes. This might sound a little too high-tech for some, but it's well-researched and won't stop at the wrong times.
Check Out Ford SUV Models and Other Great Vehicles
Now that you know the lowdown on all the 2020 Ford SUV models, you can go about picking up your next Ford utility vehicle in an informed way.
If you're ready to buy a car in west Tennessee or have questions about Ford's impressive SUV lineup, come to Steve Marsh Ford.
Get in touch with us and get preapproved for an auto loan today, and you'll be in a new set of wheels in no time at all.