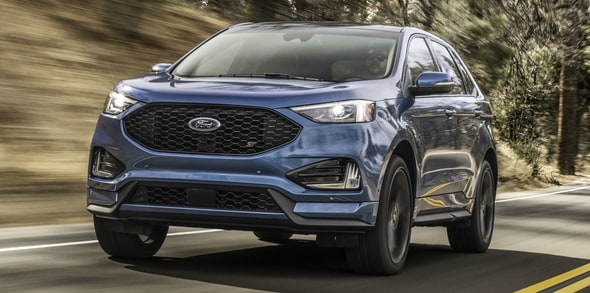 As the family continues to grow, so does your need for a vehicle that can seat everyone comfortably.
Too small a vehicle and you'll have a war brewing between siblings in the backseat. Too big a vehicle and you'll be paying out the wazoo for space and features your family simply doesn't need.
Not to mention the fact that you swore to yourself you'd never own a minivan in your lifetime — where's the compromise? Luckily, the Ford Edge sport utility vehicle exists to give you flexibility.
Here are several reasons why you'll want to give the Ford Edge a hard look during your car search.
1. Passenger Friendliness
The first thing that all Ford Edge SUV trims think of is the drivers and passengers that will be riding in them.
Ford recognized the need for a family-friendly SUV option that provided the smooth family ride of a minivan and built-in features to support that role.
Look no further than the fully-padded seats for all passengers as a way the Edge is prepared for the long road trips. Not to mention all of the luggage space it has to fit your suitcases and other supplies.
The ride is as smooth as it gets. You won't hear a peep out of the car while cruising down the local highways.
If you're looking for a car with comfort and support, then look no further than the 2020 Ford Edge.
2. Safety Features
What's the only thing more important in a family vehicle than the comfort it gives you while driving? The safety features it has to protect you.
Simply put, it has everything you could ever need. Any emergency situation has been considered in the safety details of the Edge. Features like the blind spot sensor help you prevent collisions on your side of things.
To add to that, all 2020 Edge trims come with Ford's Co-Pilot360 technology installed. Such features in the Co-Pilot360 include cross-traffic alert to assist you as your backing out of a parking spot.
The 2020 Ford Edge also tested exceptionally in its crash test results that were performed by the National Highway Traffic Safety Administration. It got five stars and four stars for the frontal crash test and rollover test respectively.
3. Variety in Models
Your choices don't simply end with choosing to purchase a brand-new 2020 Ford Edge. There are still four models to choose from in the SE, Titanium, SEL, and ST models.
Those looking to keep the price as low as possible with all the base-level features, the SE will be perfect for you.
All of you interested in the Ford Edge model with all the bells and whistles, you'll fall in love with the Titanium model right away.
If you're looking to take it one step further than the Titanium and pay a bit more for other features like high-performance wheels, brake pads, etc. then you'll want to invest in the ST.
Lastly, the SEL can be considered as the "Goldilocks" of all four models. It's a bit pricier than the SE but comes with upgraded interior features.
4. Fuel-Efficiency
In this day in age, you can never be too frugal when it comes to getting the maximum fuel-efficiency in a specific car type.
For how heavy-duty the 2020 Ford Edge is meant to be, it gets an incredible amount of miles per gallon at 21 per city and 29 per highway.
A perfect amount for family road trips without having to sacrifice making a stop for gas every 2 hours. Which ultimately requires getting all the kids back into the car after each stop. You're trying to eliminate those as much as possible.
It's also perfect for your daily commutes. Depending on how far you drive to your job, you should be able to go a full week without fueling up.
For those of you out there looking to get the most fuel-efficiency in a vehicle that's meant for family towing, the 2020 Ford Edge is one of your best options.
5. Infotainment System
Alright, so you're convinced of the Ford Edge's comfort and safety, but what about the fun stuff? Would a car purchase be worth your while without a decked-out infotainment system?
You'll be happy to hear that the Edge offers a vast amount of infotainment features.
All of you tech-savvy people will fall in love with things such as the Amazon Alexa compatibility, Wi-fi hot spot capability, and Android Auto/Apple CarPlay.
While the Edge has completely ridden itself of CD players, the Bluetooth system makes it easier than ever to play your favorite songs and podcasts. Not to mention the 8-inch touch screen that comes with each model and trim.
The graphics on the touch screen are simplistic, but that makes it much easier to move your way around without getting confused.
All in all, this system grants the family a joyous ride filled with tunes, white noise, or whatever you want in the background during long car rides.
Find Your Ford Edge Sport Utility Vehicle Today!
Now that you've seen all the incredible features that come with owning a Ford Edge sport utility vehicle, it's time to find the best fit for you!
Take your time to research which model would be best for your family's needs and find the best price around town for it!
Be sure to check out this article for an overview of the 2020 Explorer. That way you'll have something to compare the Edge to.
For more inquiries, please reach out via our
contact us page
and we'll be delighted to work with you further!