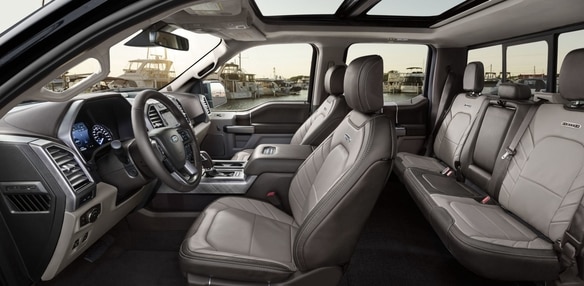 When it comes to pickup trucks, few are as renowned as the Ford F-150. Ford's flagship pickup, it's been in production since 1948.
As expected, 2020's F-150 offers a range of different features. Whereas some of these features are included in every trim, others are featured only in select trims.
Interested in learning about the different Ford F 150 trim levels? Then read on. This blog post has the information you're looking for.
Reviewing F 150 Trim Levels
The 2020 F-150 is available in 7 trim levels. These include the XL, the XLT, the Lariat, the King Ranch, the Raptor, the Platinum, and the Limited. We'll review them all below.
XL
The most basic trim, the XL starts at $28,495. Sporting a 3.3-L Ti-VCT V6 engine, it provides up to 290 horsepower. So, while not extraordinarily powerful, it has enough juice to perform most pickup tasks.
The entertainment system on the XL is fairly bare-bones. It's a simple AM/FM radio with aux cables for streaming purposes.
Some of its safety features include automatic emergency braking, a rearview camera, and curve control. It also comes with roll stability control.
Sporting two front seats and a rear bench seat, it has enough room for 5 people. While not as spacious as some of the bigger trims, it still provides plenty of legroom.
XLT
A step up from the XL is the XLT. Starting at $34,510, it offers a bit more in terms of safety and entertainment features.
Like the XL, the XLT is stocked with a 3.3-L Ti-VCT V6 engine. As such, it too produces 290 horsepower.
As far as entertainment goes, the XLT features both the SYNC 3 and FordPass Connect systems. The SYNC 3 is an infotainment system providing GPS navigation, voice command capabilities, Apple CarPlay, Android Auto, and much, much more. FordPass Connect allows you to automate your vehicle, offering time-based locking, time-based unlocking, remote functionality, and more.
Some of the XLT's safety features include a perimeter anti-theft alarm and a keyless entry pad. These are in addition to the features that it shares with the XL.
Lariat
If it's luxury you're looking for, look no further than the Lariat trim. Starting at $42,500, this trim offers a leather interior, push-button starting capabilities, and dual-zone climate control.
The Lariat is stocked with a 2.7-liter V6 engine. As such, it offers middle-of-the-road power: 250 horsepower, to be exact.
Its entertainment features include SYNC 3, FordPass Connect, and SiriusXM Sattelite Radio. It comes with an 8-inch touchscreen.
In terms of safety features, it offers everything that the XL and XLT have plus more. This "more" includes LED security lamps, electronically-powered folding side mirrors, and smart pedals. Additional features include heated seats and driver seat memory.
King Ranch
Looking for something with a little more power? If so, you might consider going with the King Ranch. Starting at $52,740, it's stocked with a 5.0-liter Ti-VCT V8 engine and produces 395 horsepower.
But that isn't all that the King Ranch has to offer. It has a number of upgrades as well.
Some of its entertainment and productivity upgrades include a ten-speaker sound system, voice-activated navigation capabilities, and SiriusXM Traffic. The latter provides a wealth of information on roads and traffic systems, informing the driver as to the existence of police, the locations of traffic cameras, the speed of traffic, and more.
Raptor
Looking for an offroading truck? If so, you should consider going with the F-150 Raptor. Starting at $53,205, it's equipped with trail control and a heavy-duty shock system.
The Raptor sports a 3.5-liter EcoBoost 6V engine. Absurdly powerful, it can generate up to 450 horsepower. As such, it has no trouble handling loose and uneven terrain.
In terms of entertainment, it's identical to the Lariat. This is to say that it has an 8-inch touchscreen, SiriusXM Satellite Radio, SYNC 3, and FordPass Connect. Other features include a terrain management system, heavy-duty skid plates, and aluminum wheels.
Simply put, this is a monster of a truck. If you're going to be driving off-road, it could be of huge benefit to you.
Platinum
A slight upgrade from the Ranch King, the Platinum starts at $55,270. Sporting an attractive wood interior and large 20-inch wheels, it's both aesthetically luxurious and functionally impressive.
Like the King Ranch, it's equipped with a 5.0-liter Ti-VCT V8 engine. This engine offers a great deal of torque and can produce up to 395 horsepower.
One of the Platinum's coolest features is its windshield de-icer. This is a windshield wiper designed to break away ice. It also offers rain-sensing capabilities, activating its wipers at the first sign of precipitation.
It shares the same entertainment and productivity features as the King Ranch. These include SiriusXM Traffic, a 10-speaker sound system, voice-activated navigation, and more.
Limited
If you want a good selection of everything, you have to go with the Limited. Starting at $67,485, this truck excels in terms of aesthetics, performance, safety, and entertainment.
Its engine is a 3.5-liter EcoBoost V6. It produces a staggering 450 horsepower. In other words, this truck's got some kick to it.
Some of its other features include a moon roof, 22-inch wheels, and satin finishes. But what really separates the Limited is its safety features. Simply put, it has a lot of them.
In addition to the standard safety features, it also has a 360-degree camera, adaptive cruise control, and lane keep assist, to name just a few other features.
Check Out All of the Ford F 150 Trim Levels
Hoping to get a closer look at all of the Ford F 150 trim levels? If so, you should come to Steve Marsh Ford in Milan, Tennessee. We sell all of the trims reviewed above and display them at our dealership for our customers to see.
Should you decide to purchase or lease a vehicle, we will be able to accommodate you. Any questions?
Contact us
now!