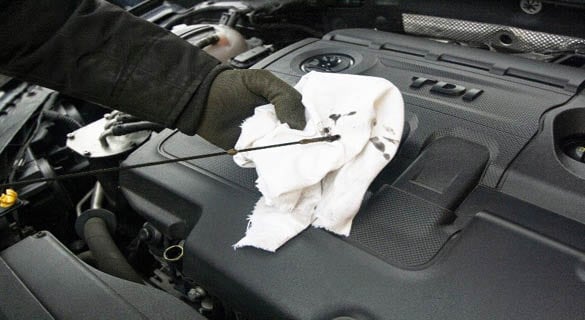 If you bring your car to the nearest garage when you need an oil change, you're missing out on getting the best oil change for your car. And that's even truer if you typically do oil changes yourself.
Dealerships are the best place to get your oil changes done. In fact, you should be relying on your dealership for all of your car maintenance and service needs.
Are you convinced that you or your neighborhood mechanic can offer the same service as a dealership? You're going to change your mind after you read this post.
The Best Oil Change and Service: 6 Reasons to Use Your Dealership
We know you may think that we're a little biased, but we can prove to you that the best places to get your oil changed in Tennessee is always going to be dealerships.
There are a lot of benefits that go beyond just getting an oil change done when you work with a dealership. The next time your service light goes on, make sure you remember these reasons when you're setting up your oil change appointment.
1. True Technical Expertise
The mechanic at the local repair shop may know a few things about car repair, but would you truly call them an expert or a specialist?
When you get your oil changed at a dealership or get maintenance done, you'll know that you're in the hands of people with true technical expertise.
People that work at dealerships are manufacturer-trained, they know everything there is to know about the make and model of your vehicle.
On top of their usual training, a lot of dealers have ongoing training programs set up for their service staff. This doesn't just mean training for mechanics, this includes the service manager, advisors, support staff, and even people in sales.
These trainings aren't just designed to keep up with baseline brand standards. They're there to make sure that people on staff know about all of the latest vehicle enhancements and proper repair techniques.
2. Better Amenities
If you go for an oil change at your local small garage, the waiting room may lack a little "ambiance".
Imagine spending your time waiting for your car staring at an outdated calendar on the wall, checking out oil stains on the floor, or watching a dingy TV with a bad picture.
We know you aren't going to get your oil changed for the scenery, but waiting in a nice facility can improve your overall experience.
At our dealership, people wait for their oil changes in style and comfort.
You'll be able to lounge in comfortable chairs while you enjoy delicious (and complimentary) gourmet coffee and snacks. If you don't like what's on our HD-TVs, you can use our free wi-fi to stream something on your phone.
3. Full-Service Help
If you go to a mechanic for an oil change, you'll most likely just be getting an oil change and nothing else.
Are your tires running low on air, or do they need to be replaced because of regular wear and tear? Do you have low wiper fluid, or could you use new brake fluid?
You won't know the answers to those questions if you see a regular mechanic for an oil change, and you certainly won't know them if you're the one handling the oil replacement!
An oil change may be a routine part of car maintenance for you, but it's Dealerships often treat oil changes as an opportunity to inspect the entire vehicle. They're equipped with full-service centers that can check everything. They'll make sure that everything is in good working order before they let you drive off the lot.
4. Going Beyond A.S.E.
You go to your local mechanic and see a decal in their window that proudly states that they're an A.S.E. certified shop. The decal looks impressive, but what does it truly mean?
A.S.E. stands for Automotive Service Excellence. It's a nice certification to have, but on its own, it doesn't mean much.
A.S.E. certification can demonstrate expertise in automotive repair, but that doesn't mean that the person you're working with is an expert on your car.
A lot of dealerships offer the benefit of having A.S.E. certified mechanics and mechanics that also double as experts for your specific car. You'll have double the expertise in one place!
5. High-Class Parts
Let's say that there's a problem discovered during your oil change.
If you're with a mechanic, they may be able to repair it with whatever parts they have on hand. If you're lucky, they'll have something that will work in your car. If not, you'll have to wait for them to order a part.
People that do DIY oil changes won't even have the luxury of finding a part that fits. If they've even able to identify that something is wrong, they're in for a tough time trying to find parts on their own.
Dealerships have a wealth of high-quality parts at their disposal that are guaranteed to fit your vehicle.
On the off chance they don't have something needed for a repair, they can have the part rush delivered and you can have your car fixed in a day or two.
6. Satisfaction Guaranteed
Imagine going in for a simple oil change, then discovering that there's something wrong with your vehicle after taking it home. Maybe it's something small like a stain on your seat, or it could be something more serious like a mechanical issue.
If you had your oil change done by a regular mechanic, you shouldn't expect an easy solution for the issue.
You'll find yourself in a "he said, she said" situation with little to no backup on your end. When all is said and done, you could find yourself having to spend more time and money on finding someone to fix what's wrong.
You wouldn't have to worry about things going wrong at a dealership. But on the off chance that something was wrong, you'd be supported every step of the way.
A regular mechanic can't guarantee satisfaction, but a dealership can. They stand by their work, and if a customer isn't happy with their service they'll do whatever they can to right the wrong.
Oil Changes and More
If you want the best oil change possible for your car, take it to a dealership. When you factor in expertise, quality service, and value, a dealership can't be beaten!
Texan Ford owners don't need to look far to get quality oil changes and maintenance services if they're in Milan. We can handle all of your car needs.
Want to see what we can do for you? Contact us today and set an appointment for the best car service you'll ever have.