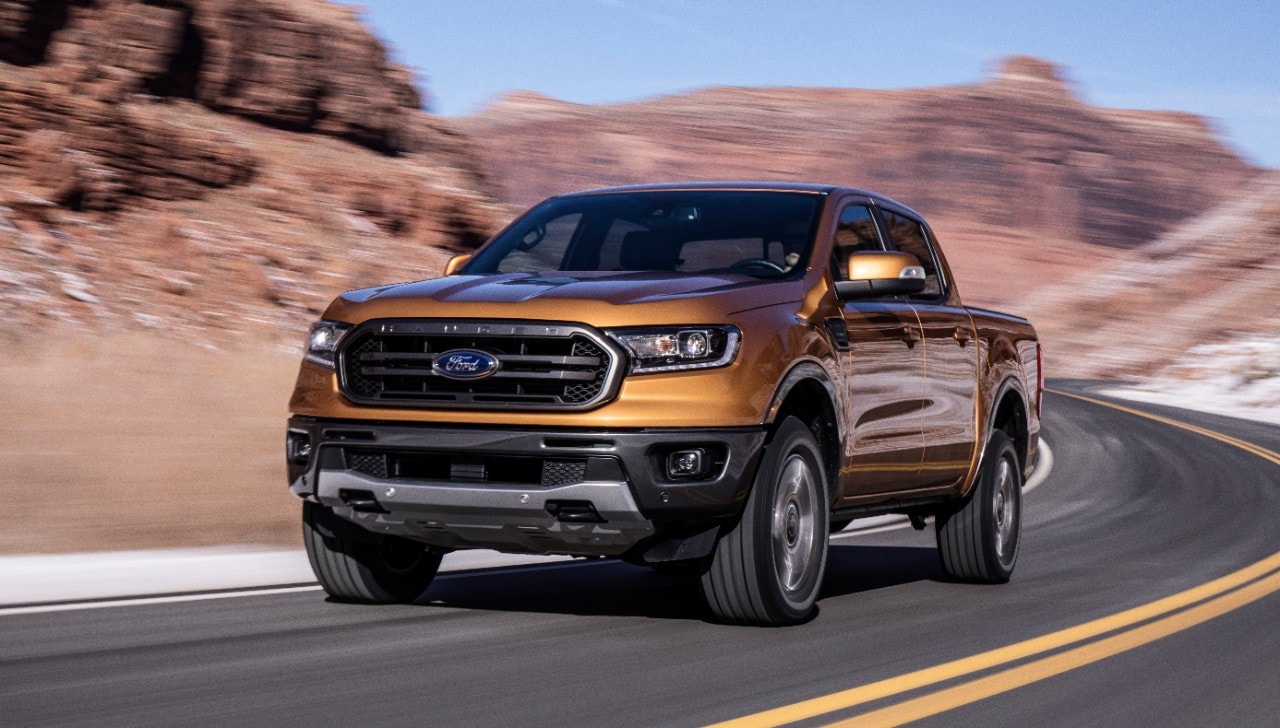 After years of international circulation, the 2019 Ford Ranger has finally landed back in the United States
for the first time since 2014. Ford has ensured that the 2019 model will be a major contender in the mid-
sized truck arena, going head to head with the Toyota Tacoma and Chevy Colorado.
Boasting beefy horsepower and torque, it still doesn't sacrifice fuel economy with a 21 city/26 highway
rating. The Ranger is primed for off-road performance. With a little modding, the 2019 Ford Ranger can
go from eye-catching to insanely awesome for any truck enthusiast looking to make a statement.
Here is a list of some of the best Ranger modifications.
Exhaust
Every 2019 Ranger comes stock with the only engine available: a 2.3-liter Eco-Boost turbocharged 4
cylinder engine. As an RWD truck, it's capable of providing 270 horses with 310 lb-ft of torque.
And while this engine has a satisfactory growl, a "
cat-back
"style exhaust upgrade will take that growl to a
roar. You'll enjoy increased horsepower and torque that will lead to better hauling on steep grades. Your
off-road performance will improve as well.
An improved exhaust also reduces engine heat and improves MPG.
Wheels and Tires
The first thing that separates your truck from the pack is the size and look of the wheels. Performance
wheels with off-road tires tell the world your truck is ready for any scenario it encounters. With upgraded
wheels, your Ranger's off-roading capabilities can be fully realized. Aftermarket wheels are tougher and
last longer than factory OEM's.
For those with a job that takes them through muddy or soggy terrain, a beefy set of off-road tires is a vital
tool. Farmers, outdoors men, or simple weekend warriors can all benefit from the effectiveness of high-
performance tires.
Whether climbing rocks or clearing land, changing the shoes on your Ford Ranger will make you
unstoppable.
Lift Kits
A suspension lift kit will give your truck the aggressive stance you desire, but it also improves
performance. Different from a more cosmetic 'body lift' suspension lifts increase your truck's clearance
for off-roading. The taller stance makes room for better wheels and tires.
A quality lift will enhance the ride quality of your Ranger, on and off the road. Towing and load capacity
will increase as well.
Tonneau Bed Covers
In the last decade, bed covers have become a necessity for modern truck drivers. As people require more
versatility in their vehicles, a tonneau cover has made it possible to use the truck bed in a variety of
ways.
A hard tonneau cover provides protection from the elements for any items placed in the bed. With the
ability to lock valuable items too large for the cab, your belongings are safely hidden from would-be
thieves.
The streamlined look of a tonneau cover not only ups the resale value but it creates less drag for
improved gas mileage too.
LED Light Bars
Whether you're camping off the beaten path or prepping for an impending zombie apocalypse, an LED
light bar will make nighttime activities a breeze.
LED's are lighter, brighter and last longer than any other type of light bar on the market. Their smaller size
makes for a contoured profile that blends in perfectly with your truck's body. They have stronger housings
too to fight back against tough environments.
With the ability to cast a wide flood or a focused beam, LED light bars fit perfectly across your bumper,
grill or roof line. LED's also demand less draw on your electrical system so they're always shining at
maximum brightness.
Tailgate Damper
As the owner of a 2019 Ford Ranger, you're most likely someone who will use the bed and tailgate daily.
Gone are the days of accidentally dropping the tailgate and wincing as it shakes the truck and sounds like
it's breaking in half. Or even worse, falling on someone close by.
With a tailgate damper, the easy, smooth descent of the tailgate creates a safer work space and reduces
the risk of injury. It's ideal for children and weaker individuals who might not have the strength to manually
lower the gate by themselves.
It also prevents premature wear and tear on the tailgate components.
Bed Tray or Bed Slide
A tradesman uses the bed of their Ranger as a mobile work station. Fetching tools, reviewing blueprints,
hosting meetings, and just taking a lunch break all revolve around the bed of the truck. If you've ever
been on a job site, you'll see professionals blaze a trail between the truck and their work.
A bed tray keeps all your tools and belongings organized. A sliding bed tray is even more convenient by
acting like a drawer that slides out, some as much as 100% of the way.
These provide rugged, easy access to everything you need most during the day. They're perfect for
disabled or injured owners who aren't able to climb in and out of the bed all day long. You'll never have to
strain and lay down to reach that pesky tool at the front of the bed again.
Front and Rear Bumpers
The perfect way to round out your Ford Ranger mod is by replacing the bumpers with steel aftermarket
bumpers. These provide a sleek, upgraded appearance that makes your Ranger ready to tackle the great
outdoors.
They increase the protection around your front and rear crash zones with heavy-duty steel that bolts
directly to the frame. Many can be integrated with a light bar and come with customized cutouts for
modern parking and crash sensors.
The reduced profile provides for better tire clearance and airflow.
Superior Modification Ability of the 2019 Ford Ranger
With an expansive modification community, the possibilities are endless for just how customized you can
make your 2019 Ford Ranger. The return of Ford's mighty little warrior is invigorating a community of off-
road enthusiasts hungry for what Ford has to offer.
chapter as a member of the Ranger club. Your new adventure awaits.