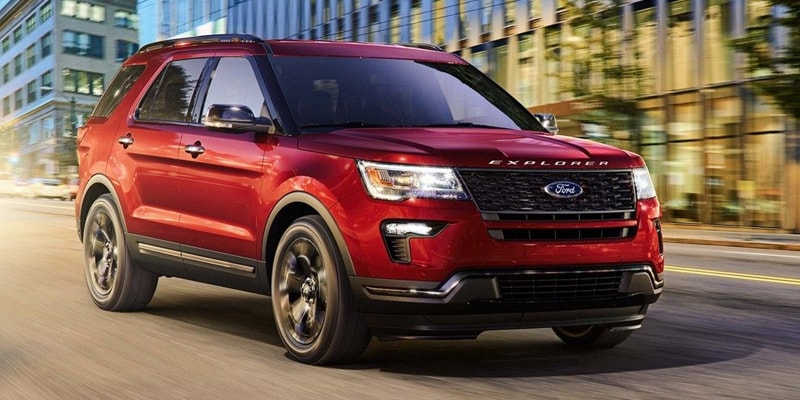 In 2018, car makers and dealerships in the United States sold more than 17 million vehicles. What's more, over two-thirds of these sales were for SUVs and trucks.
The Ford F-Series, after having sold 909,330 units, remains the best-selling pick-up truck. And while the Ford Explorer line didn't sell as much, it still concluded 2018 with 227,732 sold units.
But there's no doubt about it -- SUVs are becoming more popular. It's many thanks to their power, roominess, fuel efficiency, and great looks.
That said, if you're planning on getting a new ride, you may want to consider going with the Explorer.
But what exactly makes this Ford SUV investment-worthy? With hundreds of other sport utility vehicle choices, why this one in particular?
That's what we're here to share with you today, so be sure to keep reading!
Made with Safety in Mind
A survey found that 65% of U.S. car shoppers consider safety as the most important factor when buying a new car. That's exactly what you'll get with the Explorer, regardless of the model's year.
The National Highway Traffic Safety Administration (NHTSA) ratings confirm that. For instance, the 2019 Ford Explorer received a 5-star rating - the highest possible score - from the NHTSA. All 2012 to 2018 models also scored five stars.
The 2019 Explorer includes safety features like five airbags and brake assist. It also comes with Electronic Stability Control, 4-wheel ABS, and 4-wheel disc brakes. Child safety locks, traction control, and daytime running lights are also standard.
Even if you go with a used 2018 Explorer, you'll get the same safety features as with the 2019 model. More features come with the available Safe and Smart Package though. These include adaptive cruise control and blind spot information system among many others.
Good Mileage and Fuel Economy
While experts forecast fuel prices to go down this year, $2.70 a liter can still be pricey for many motorists. Especially since they're driving more than ever -- averaging 13,476 miles a year!
Even if you don't drive that much, you still need a fuel-efficient ride. The Explorer fares well in this category, especially the 2019 and 2018 FWD models. Both have a combined 22 mpg rating (19 mpg for city, 27 mpg for highway driving).
Awesome-Looking Exterior That Commands Attention
While you should never base your car buying decision on looks alone, let's face it. Appearance is still an important consideration for many of us. Luckily, the Explorer's exterior looks great, thanks to its rugged, yet elegant styling.
Both the 2018 and 2019 Explorers come in 10 different colors, like Magnetic, Ruby Red, and Ingot Silver. Oxford White, Shadow Black, and Cinnamon Glaze are other options for the 2018 Explorer. With the 2019 models, new choices include Baltic Sea Green, Agate Black, and Stone Grey.
Roomy and Comfortable Interiors
The Explorer is well-known for its spacious interiors that can seat up to seven souls. With the 2019 Ford Explorer though, there are optional second-row captain's chairs. This drops capacity by one, but no doubt increases comfort for six passengers.
All three rows of the 2018 Ford Explorer are also roomy and can accommodate up to six people. There's a lot of head and leg room, which is a must for long-legged passengers. There's enough space here to make it a great family vehicle.
Three-row seating is also standard in the 2017 model, and it's as roomy as its successors. Ford made an option for a sliding second-row seat available too, which increases leg room.
A Tried and Tested Vehicle for Almost Three Decades Now
Come 2020, the Explorer will celebrate its third decade in production. That's thirty years of providing safe and enjoyable driving and handling! Those three decades of being in production should tell you how reliable and powerful this SUV is.
Granted, it wasn't until 1994 that the Explorer became one of the country's top 10 best-selling SUVs. Still, the first generation was able to sell over 300,000 units. This went up to over 400,000 units a year with the second generation.
Today, the Explorer has become the world's "best-selling SUV of all time", or at least according to Ford. That makes sense, since all in all, it has sold almost 8 million units to date.
Strong Yet Quiet Performance
When the 2016 Explorer rolled out, it came with a four-cylinder turbocharged engine. Ford also gave it much-welcome interior updates and changes, including sound-deadening features. This technology gave the SUV an almost noiseless cabin, even with its engine revved up.
From there, the newer models also fared well when it came to cabin quietness. But Ford says the 2020 model will be the quietest Explorer ever. It'll come with improved noise cancellation technology and much better acoustics.
But whether you opt for a pre-owned 2016 model or the latest one, you're sure to enjoy quiet driving.
Financing Available for More Recent Pre-Owned Units
There's no doubt that owning a brand-new car is one of the most exciting experiences you can ever have. Especially if you're eyeing the 2020 Explorer, the most advanced Explorer yet.
But while it comes with the latest tech and features, it's also the most expensive of all model years. The Platinum variant can cost you almost $60,000.
If you don't have that kind of money lying around, why not consider a pre-owned Explorer? Not only do these used Explorers cost much less -- you can also get them under a financing program! With financing, you'll soon be switching gears in your Explorer.
Drive Home in a Ford Explorer Now
As you can see, there's a lot to love about the Ford Explorer, from its spaciousness to its powerful engines. Whether you're a lone driver or you'll tow the entire family in it, this SUV is one of your best choices.
Ready to start shopping and comparing your Explorer or other Ford vehicle options? If so, then make sure you check out our Ford inventory. Feel free to download a brochure to compare vehicle specs too!