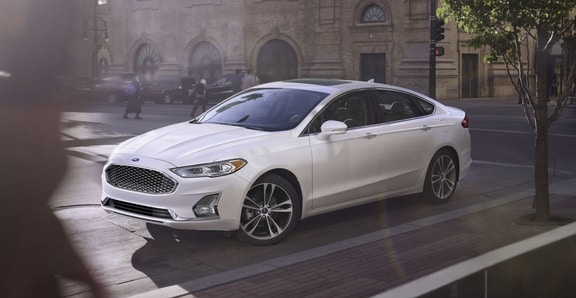 The Ford Fusion has been around since 2006. Over the last 14 years, the exterior style has evolved and the interior has adapted to changes in technology.
While Ford is shifting their lineup to focus on SUVs and trucks, they're not giving up on the Fusion just yet.
For some buyers, a sedan is actually a better investment than an SUV. After all, sedans get 14% more miles to the gallon than SUVs. Plus, they're generally more affordable than SUVs and trucks.
The 2020 Ford Fusion sedan is an exciting addition to this year's lineup. It offers great gas mileage, lots of customization options, and safety technology that comes standard with all models.
Read on for more reasons to fall in love with the Ford Fusion in 2020.
Four Trims to Choose From
The S model is the most economical choice and starts at $23,087. It has front-wheel drive and a dependable 2.5-liter 4-cylinder engine. It has a 4.2-inch info screen, a 4-speaker sound system, and a USB port.
The SE has a 1.5-liter turbocharged engine that can be upgraded to all-wheel drive. The SE also adds power front seats, rear parking sensors, and a sound system with 6 speakers. The 8-inch infotainment screen is compatible with Apple CarPlay and Android Auto.
The SEL trim adds keyless ignition and entry, LED headlights, and a sound system with 11 speakers. It also includes heated front seats.
The Titanium model is the top of the line so you can look forward to an upgraded sound system with 12 speakers. This model is compatible with all three powertrains — gas, hybrid, or plug-in hybrid. It also comes with a sunroof and Copilot 360 Assist.
Three Powertrain Options
Whether you want to stick to the status quo or reduce your carbon footprint, the new Fusion offers several options. You can choose from a gas engine, a hybrid, or a plug-in hybrid (also called a PHEV).
The gas powertrain comes in either a 2.5, 2, or a 1.5-liter 4-cylinder engine. The 1.5 liter gets highway gas mileage in the mid-thirties, whereas the 2.5 liter only gets about 30 miles to the gallon.
If you have the budget for one of the more expensive engines, you may find that the car is more fun to drive. Plus, you'll get better gas mileage.
The hybrid engine will get over 40 miles to the gallon. It has a smaller engine and a rechargeable battery. The hybrid is a simple way to reduce your carbon footprint and get better gas mileage.
The plug-in hybrid can operate on electricity, gas, or both. When using both gas and the battery, you can get about 100 miles to the gallon. This option has a higher starting price, but you'll save money on gas and decrease your carbon footprint.
Ford Copilot 360 Safety System is Included on All Trims
One of the best features of the 2020 Fusion is the fact that Ford's safety technology is included in all models. No matter your budget, you'll get the safety features of a high-end vehicle.
With lane-keeping assist, the system will alert you if you're drifting outside the lines. This can prevent accidents that can happen when you're tired or distracted.
Blind spot monitoring is also included with Copilot 360. This is a great feature for highway driving or pulling away from the curb. You'll have more than just your mirrors to rely on.
Automatic lights are a standard safety feature of most new vehicles. They are also part of the Copilot 360 system. You'll never forget to turn on your headlights because they're already on.
The system also comes with collision warning and automatic braking. If your Fusion senses that an accident will happen, it will alert you. According to the IIHS, this technology has led to a 43% drop in collisions and a 64% decrease in related injuries.
A more advanced version of this system is the Copilot 360 Assist. It is standard for the Titanium model, but the S, SE, and SEL models can be upgraded to Copilot 360 Assist. This package includes dual climate control, cruise control, and an upgraded Sync 3 system.
Sync 3 Infotainment System is Compatible with All Smartphones
The Sync 3 system acts as a stereo, a GPS navigation system, and a hands-free phone. It's also supported by the voice-activated technology of Alexa.
No matter what type of smartphone you have, it will pair with the Sync 3 system. The Fusion is compatible with both Apple CarPlay and Android Auto. It will give you access to your phone's music and GPS while keeping your eyes on the road.
The Fusion S model doesn't have a touch screen, but it does have Apple CarPlay and Android Auto. The complete navigation system is only included with the Titanium trim. But since you can pair your phone with the Sync 3 system, you can use your phone's navigation instead.
The Sync 3 system is also compatible with Sirius XM Radio. If you choose to pay for a subscription, the Fusion's system will already be set up.
This year's Fusion also includes a 4G LTE wifi hotspot called FordPass Connect. You can connect up to 10 devices. With the built-in wifi, you won't burn through your own data while using your phone for navigation or music streaming apps.
Drive Home Today in a 2020 Ford Fusion
The new Ford Fusion combines the comfort of a mid-size sedan with the fun of a sports car. With all of the trim and powertrain options, you'll be able to find the perfect vehicle for your budget.
Ford is trimming their line of cars, but production for Fusions will continue until 2021 at least. This year's sedan is sure to make an impression on the market.
If you're interested in a 2020 Ford Fusion, check out our inventory. Whether you're looking for a new or pre-owned Ford, we have you covered.