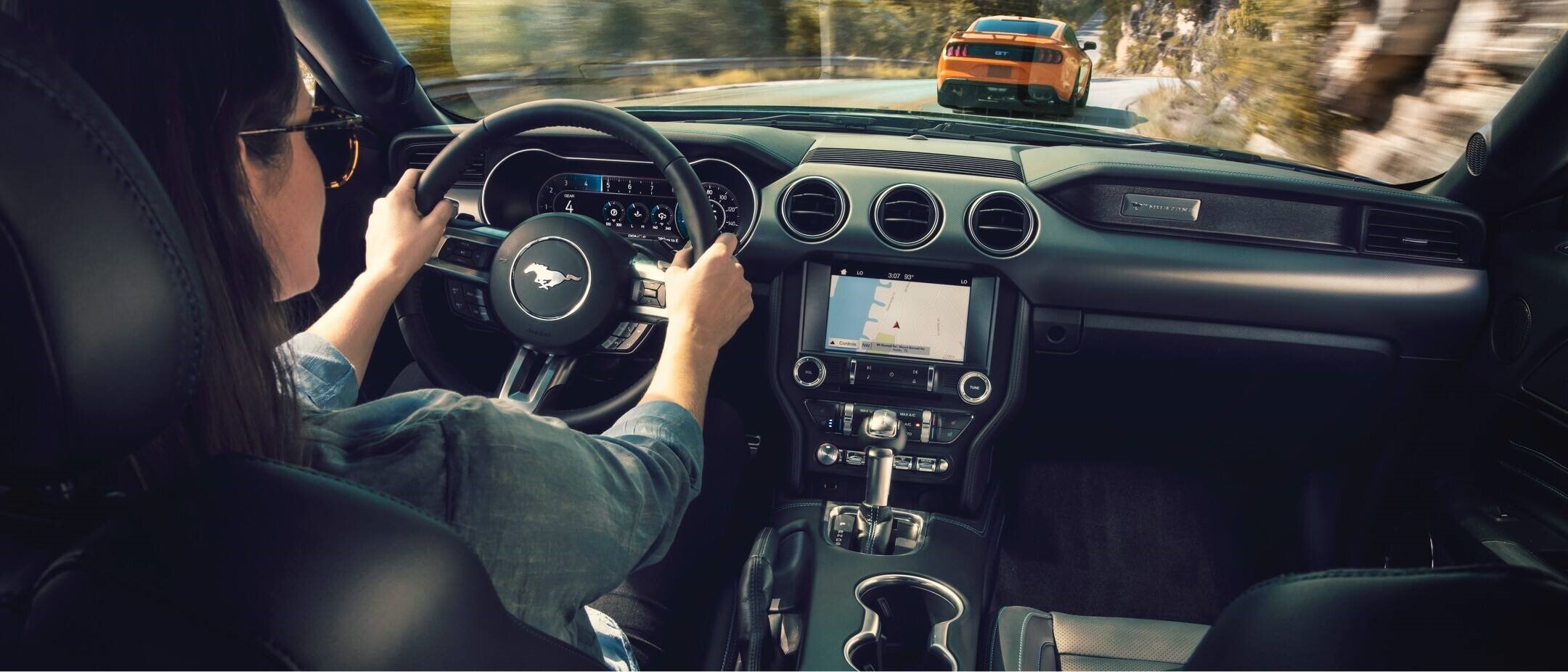 The Mustang's popularity isn't diminishing anytime soon.
Recently, a classic 1967 Shelby GT500 Super Snake made history as the most expensive Ford ever by selling at an auction for 2.2 million dollars.
Thus, if you've been toying with the idea of buying a Mustang, this is the right time to get one. And thanks to Ford's policy of producing a new model every year, you've got a myriad of options to choose from.
But before contacting any dealer, check out this 2019 Ford Mustang review.
What's New in the 2019 Ford Mustang?
Ford's decision to incorporate an independent rear suspension in their 2015 Mustang lineup (the first time in 50 years) was a significant step towards better road performance.
This change, coupled with new styling and high-quality cabin, spurred the Mustang's evolution into a comfortable and sophisticated car. The latest Mustangs are even cooler.
This year, other than the Bullit, you can also get your hands on the California Special trim as well as a soon-to-be-unveiled Ford Mustang GT 500 that pumps up 700 horsepower.
Still, there's a lot to like even in the basic Mustang. Some of the new features include:
· Active valve exhaust
· Heated steering wheel
· Digital gauge cluster
· 20- or 19-inch wheels
· State-of-the-art navigation system
· Recaro front sport seats
· Blind spot monitoring
· Adaptive cruise control
2019 Ford Mustang Configurations
This year, you can get the coupe Mustang in different trim levels including the GT, GT Premium, EcoBoost, EcoBoost Premium, and Bullit. Convertibles are also available in all trims except Bullit and GT.
Here's everything on offer for each configuration:
Mustang EcoBoost
This Ford is powered by a four-cylinder 2.3-liter engine that makes 300-pound-feet of torque and 310 horsepower. The EcoBoost also comes with a standard six-speed manual transmission and an optional automatic 10-speed gearbox.
Additionally, this car has some incredible racy hardware including launch control (only for manual transmission), limited-slip rear differential, and an electronic line-lock for track burnouts. You'll also get to enjoy manual cloth seats, keyless ignition and entry, a rearview camera, and auto-dimming rearview mirror.
EcoBoost Premium
This Mustang keeps most of the standard EcoBoost's hardware but adds leather upholstery, power-adjustable front seats, revised cabin trim, 18-inch wheels, dual-zone automatic climate control, as well as Andriod Auto and Apple CarPlay systems.
Mustang GT
The GT models significantly scale up Ford Mustang's performance game. They come with a 5-liter V8 engine that makes 420-pound-feet of torque and 460 horsepower.
Other noteworthy features include the rear parking sensors as well as power-adjustable front seats. The GT Premium is just like the standard GT, however, it features similar interior comfort like the EcoBoost Premium Trim.
Bullit
The difference between the Mustang Bullit and the GT is mostly aesthetics. With the Bullit, you can get extra features such as specialized logos, special wheels, Highland Green paint option, and optional rear spoiler.
Moreover, this car has a modified intake manifold that allows it to easily hit 480 horsepower.
Some premium trim features are available for the standard (GT or EcoBoost) vehicles. These include larger breaks, shorter differential ratio, rear stabilizer bard, stiffer front springs, and 19-inch summer tires.
2019 Mustang Drivability
Even without performance options, this year's Mustang is impressively engaging, quick, and fun. It's also quite easy to drive, though the new automatic 10-speed transmission isn't as responsive as the manual modes.
What's more, the 2019 Mustang's steering effort is heavier at highway speeds and lighter at low speeds. When it comes to handling, the body roll is well-managed – you can clearly feel the tires approach the grip limit.
2019 Mustang Comfort
In as much as the seats don't offer extensive adjustments, they're quite supportive. This means that you'll remain comfortable on the saddle for hours. The seat finish is a blend of all-day comfort and sporty bolstering.
Furthermore, the suspension readily absorbs potholes, giving this muscle vehicle an enviable driving comfort.
When it comes to driving noise, you'll be happy to find out that the only noises you'll hear when driving this beast are the bellowing engine (when driven hard) and the exhaust. Luckily, the latest Mustangs come with optional active exhaust, meaning that you can keep things sensibly quiet whenever you like.
2019 Ford Mustang Costs
Buying the current Ford Mustang's will cost you anything from $28,000 to $45,000.
Options, style, and other factors will significantly affect the final retailing price of your preferred ride.
Nonetheless, V8 owners should prepare for significant spending at the pump as these cars don't break the 25 mpg (31-highway, 21-city) barrier. V8 auto convertibles are also the most expensive of the lot. Nonetheless, you'll hardly find a high-end car under $50,000 with such style and performance.

If you want a Mustang that doesn't guzzle so much, go for the EcoBoost. It manages 31 mpg combined, which is a reasonable figure for daily commuting.
Who Should Buy the Ford Mustang?
This is an excellent car for anyone who wants to reinvigorate their lost youth.
The base Mustang is a perfect hardy vehicle for economic daily driving and performs better than Ford's biggest rivals – the Chevrolet Camaro and Dodge Challenger.
2019 Ford Mustang: Final Verdict
This the best pony car lineup yet, considering that it offers style, comfort, handling and power for relatively affordable prices for the average American.
Available in convertible and coupe forms, the 2019 Ford Mustang models come in a variety of flavors to suit a range of personal preferences and lifestyles.
At Steve Marsh Ford Sales, we have all the latest Ford Mustangs in stock. If you're short on cash, visit our finance center for favorable auto financing options.